American Dressage News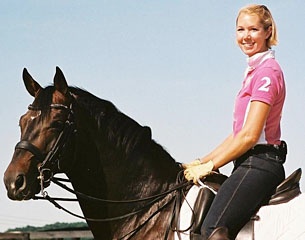 U.S. Olympic team rider Courtney King-Dye got severely injured in a riding accident at her farm in Florida yesterday March 3, 2010. Initial reports say that King-Dye sustained serious head trauma and is currently in a drug induced coma in the Intensive Care Unit.
Courtney fell from a client's horse, which she asked to move the haunches when its legs got tangled and slipped. Courtney hit her head which knocked her unconscious. She was transported by helicopter to St. Mary's Hospital in North Palm Beach, Florida, with a skull fracture.
King's long-time coach Lendon Gray confirmed that Courtney's vital signs are good though she is heavily sedated as is the usual case where there is bleeding to the brain.
King-Dye will go for another CAT scan in the morning of 4 March to check the swelling and bleeding. Her pressure has come down.
Photos © Dirk Caremans
Related Links 
Courtney King-Dye Awarded the $25,000 Carol Lavell Advanced Dressage Prize
Courtney King-Dye Loses Rendezvous
Harmony's Mythilus Euthanized Due to Colic