2010 World Equestrian Games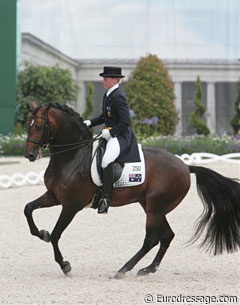 Australia's elite Dressage competitors have two opportunities remaining in Australia to qualify for this year's World Equestrian Games to be held in Kentucky (USA), 25 September to 05 October.
The first opportunity will be later this month in Werribee, Victoria at the Dressage and Jumping with the Stars event 18-20 March. The event will feature an FEI World Cup qualifier class (CDI-W), at which riders may gain a qualifying score (riders need to obtain two qualifying scores to be eligible for selection).
There are no compulsory selection events; rather each rider may choose his or her own campaign. All Grand Prix test performances from CDIs and CDIs-W in 2009 and 2010 in both Australia and overseas will be considered by the National Selectors, with particular attention to the most recent competitions.
Europe-based Australian riders including 2008 Olympic competitors Hayley Beresford and Kristy Oatley will be amongst the riders bidding for selection overseas. 2009 Australian Dressage Champions Brett Parbery and Victory Salute have recently travelled to the Netherlands where they will represent Australia at the FEI World Cup Final in 's-Hertogenbosch 27-30 March. The pair will then remain in Europe during their campaign for World Games team selection. At home Olympians Heath Ryan and Rachael Sanna will lead the charge.
The final domestic qualifying event will be the Sydney CDI 29 April-1 May. All eyes will be on the Grand Prix.
Back to the 2010 WEG index