What's Happening in the Dressage World?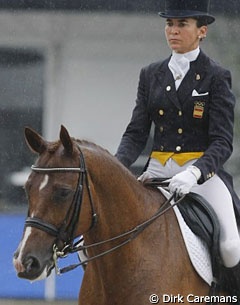 Beatriz Ferrer-Salat sold her second Grand Prix horse Peter Pan to a Japanese dressage rider. The 13-year old Dutch warmblood gelding is by Gribaldi out of Eltiena (by Oldenburg). Ferrer-Salat also switched trainers, from Jan Bemelmans to Ton de Ridder.
Despite the jaw-dropping stud fee of 5500 euro (excl. VAT), Totilas is popular as a breeding stallion!! Since the announcement that Totilas would stand at stud, the owners have received more than 150 official applications from Holland, Germany, Denmark, the U.S.A., England, France, Canada, New Zealand, Australia, Brazil and even Croatia. Several owners of "famous mares" have applied for a breeding. In The Netherlands, owners of such mares as Reine B (by Rubinstein, competed at PSG level under Lotje Schoots), Oogappel (by Partout, Grand Prix mare ridden by Aat van Essen) and Ritamorka (by Jazz, sired the licensed stallion Citango) have registered for a breeding.
The Australian Equestrian Federation appointed Grant Baldock as the new Chief Executive Officer. The appointment will take effect in mid-April in the lead-up to the retirement mid-year of current CEO Mr. Franz Venhaus, who has been in the position since 2002. Grant joins Equestrian Australia (EA) with over fifteen years experience in sports administration. He started his career at the Palm Beach (Qld.) Surf Life Saving Club, having been Australian Surf Life Saving Champion in three consecutive years, and then moved to Sydney to join Surf Life Saving Australia (SLSA). There he held various positions, interlaced with sport management assignments at Commonwealth Games and World Swimming Championships. Grant's current position is that of General Manager Surf Sport with SLSA, where he controls a budget of $4.9 million and is responsible for the management of Surf Sports national partnerships worth in excess of $3 million per annum.
Legendary young horse rider and trainer Dr Ulf Möler and Australian international young horse judge Susie Hoevenaars are conducting a Young Horse Clinic on Sunday March 21 at the Werribee Park National Equestrian Centre, following this year's PSI Dressage & Jumping with the Stars event. Open to judges, riders and trainers, the morning will be both informative and inspiring as Ulf works with horses aged from 4 to 6 years, and shares his observations, insights and training principles that have made him one of the world's best young horse trainers. The requirements of the horse at each of the age levels will be discussed and shown, and will be extremely beneficial for young horse judges attending. Many observers of this clinic in previous years have considered it to be one of their highlights of DJWTS.
Horse and Hound reported that Lisa Roberts, owner of Lisa Hopkins's Grand Prix horse Nemo III, is suing the Royal Veterinary College (RVC) over the sudden death of her horse. Nemo died after being sent for routine bone scanning and Roberts is suing the RVC for damages of more than £350,000, claiming breach of contract, breach of duty, and negligence. The 12-year-old Dutch warmblood gelding was admitted to the RVC on 9 November 2007. Vet Lawrence O'Hara inserted an intravenous catheter into his jugular vein and this was stitched to his skin. Later, he was injected with a radioactive marker, technetium, with plans for the bone scan to take place in several hours' time. Mrs Roberts said she asked for the catheter to be covered as he was rubbing his neck against the door, and for a grille to put at his door. But neither was done and Nemo was found dead in his stable at 1.45pm. Prof Smith reported that the most likely causes were either venous air embolism, a reaction to the drugs he was given, or fatal cardiac dysrhythmia. Read More here
World Games 2010 Foundation announced the availability of "World Equestrian Radio," a personal radio service complete with a souvenir radio receiver, to spectators of the 2010 World Equestrian Games. Expert commentary will be provided for Vaulting, Dressage, Reining, Eventing Dressage and Eventing Jumping, Driving Dressage and Para-Dressage. Presently. Dressage commentators will by Kathy Connelly for dressage and Betsy Steiner for eventing dressage.
Barbara Young has joined Greenshires Publishing as the new Editor of British Dressage magazine. Barbara, a well established newspaper and magazine journalist, has been working as Associate Editor on the title for the past year. Barbara's appointment follows the decision by former editor Jane Kidd to step aside after 15 years at the helm. Jane will be Consultant Editor with responsibility for the well established and respected training section.
Bev Edwards' Hanoverian licensed stallion Jaybee Alabaster (by Alabaster x Glorieux) has been gelded in the autumn of 2009. Competed by Australian Olympian Rachael Sanna, the liver chestnut Alabaster is a contender for a spot on the Australian WEG team that will compete at the Games in Kentucky.
The Horse Magazine reported that Debbie McDonald's 2003 World Cup winning mareBrentina (by Brentano II x Lungau) isexpecting two ET foals in the spring of 2010. One foal will be by Doug and Louise Leatherdale's Hanoverian stallion Damsey(by Dressage Royal x Ritual), the other by Leslie Morse's KWPN Grand Prix stallionKingston (by Voltaire).
Dutch young horse specialist Theo Hanzon has another ride at his disposal. Horses.nl reported that Hanzon will now be campaigning the 5-year old stallion Amazing Star (Flemmingh x Ferro). This is the third stallion owned by Joop van Uytert that Hanzon is getting to ride. The other two are Zhivago and Andretti.
We heard from Cees Slings that the EQM team received uncountable inquiries from 93 different countries to see the EQ Musync presentation!! The interest in this helpful tool for judges to assess a freestyle to music is immense!
At the FEI Pony Talent Search competition in Hunxe (a regional show in one of the busiest FEI pony regions in Germany) Jessica Krieg and the black Ghost won the L-level test with 68.981%. Lena Charlotte Walterscheidt made her debut aboard the Rothenbergers' Deinhard B. Six week after she got the ride on the 2008 European Pony champions, Walterscheidt finished second at her first competition with 67.963%