2010 Imperial Riding Cup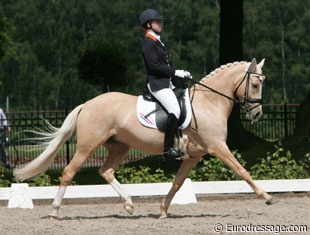 Antoinette te Riele booked her second victory out of three at the 2010 Imperial Riding Cup qualifiers. Aboard her gold medal winning German Reitpony mare Golden Girl (by FS Don't Worry), Te Riele scored a massive 75,37% at the latest qualifier in Uden, The Netherlands on 20th February 2010. With her second pony, the 6-year old Dynasty (by Deinhard B) she also finished second on 72,76%.
Dana van Lierop and the young dark bay pony stallion Wengelo's Ricardo (by Coelenhage's Purioso) finished fourth with 69,72%. Suzanne van de Ven and the former Dutch young pony champion Majos Cannon (by Marchi) slotted in fifth with 69,17%.
The next Imperial Riding Cup qualifier takes placed at Sunrise Stables in Assen, The Netherlands, on Sunday 21 March 2010.
Results Imperial Riding Cup in Uden - 20 February 2010
| | | | |
| --- | --- | --- | --- |
| 1 | Antoinette te Riele | Golden Girl | 75,37 |
| 2 | Antoinette te Riele | Dynasty | 72,41 |
| 3 | Maria van den Dungen | Rembrandt D.d.h. | 71,76 |
| 4 | Dana van Lierop | Wengelo's Ricardo | 69,72 |
| 5 | Suzanne van de Ven | Majos Cannon | 69,17 |
| 6 | Michelle de Jonge | Hagelkruis Valentijn | 68,61 |
| 7 | Chiara Prijs | Mastwood Blackberry | 66,57 |
| 8 | Rachell Fokker | Orchard Boginov | 66,39 |
| 9 | Lotte Meulendijks | Boticelli | 65,74 |
| 10 | Sanne Gilbers | Daylight | 65,28 |
| 11 | Suzanne van de Ven | Lamento Iii | 65,09 |
| 12 | Christien Kerbert | Cinderella Du Bois | 65,00 |
| 13 | Valerie Brabanders | Hoppenhof's Erwin | 64,17 |
| 14 | Laila Smits | Oosteind's Rocco | 63,80 |
| 15 | Jasmijn Linthorst | Wester Aikema's Adios | 63,70 |
| 16 | Aimee Weise | Kelly | 63,52 |
| 17 | Chiara Prijs | Desperado | 63,24 |
| 18 | Julia van Schaik | Vitell W | 63,06 |
| 19 | Lara Roozemond | No Angel | 62,22 |
| 20 | Jeanine Nekeman | Hoby | 61,48 |
| 21 | Jasmijn Linthorst | Pegasus B | 61,39 |
| 22 | Merel Hooijer | New Danger | 60,65 |
| 23 | Shelby Spierenburg | Der Harlekin B | 60,00 |
| 24 | Lonneke Vaessen | Canto T.g. | 59,91 |
| 25 | Nicole van Niedek | Nandu | 59,63 |
| 26 | Romy Bemelmans | Vinkenhove Lester | 59,63 |
| 27 | Kaylee Gouda | Westerterper Silvan | 59,35 |
| 28 | Sanne van Pul | Shadow | 59,26 |
| 29 | Annelie Hoekstra | Pop Star | 58,98 |
| 30 | Marieke Versluis | Vivaldi | 57,78 |
| 31 | Kristy Boshoven | Juranca's Calido | 57,41 |
| 32 | Reece Fokker | Hogewald's Naziri | 57,13 |
| 33 | Mandy van den Hoek | Voorwijk's Celeste | 56,76 |
| 34 | Ashley Langevoort | Igor | 56,39 |
| 35 | Marjan Hooge | Mr Matcho | 55,93 |
| 36 | Iris Dozeman | Lars | 54,44 |
| 37 | Femke Smit | The Boy | 54,26 |
| 38 | Jil Verbeek | Largos | 54,17 |
| 39 | Cato Hemels | Vincent | 53,80 |
Related Links
Dynasty Makes Regal FEI Show Debut in Emmeloord
Te Riele Wins First Qualifier of 2010 Imperial Riding Cup in Weert