Swiss Dressage News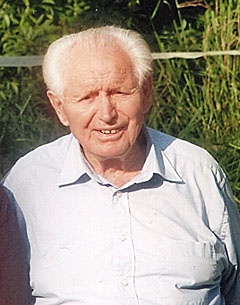 Georg Wahl, the legendary dressage trainer, is celebrating his 90th birthday on 21st February 2010. A major celebration will take place in a local restaurant in his home village Kirchberg, to which family and close friends are invited.
Wahl was born in Oberschlesien, Poland, and joined the German cavalry as a 17-year old. He was discovered by Colonel Podhajsky who took him to the Spanish Riding School in Vienna where he was trained as a rider from 1940 to 1951. Wahl then travelled to Switzerland to work for Fredy Knie senior at the famous Circus Knie. He also taught at the Riding Club of Berne, where he scouted his best pupil ever, the then 13-year old Christine Stückelberger. In 1967 Hans Handler invited Wahl to return to the Spanish Riding School. Wahl took on the job and he worked there as Oberbereiter till 1971.
Georg Wahl is well known for being the trainer of multiple Olympic champion Christine Stückelberger who has been under his tutelage for 50 years. But Wahl has pupils all over the world. He still gives clinics and trains many horses at his own yard near St. Gallen.
Wahl is renowned for working horses in hand and has trained an innumerable amount of horses to Grand Prix level. Several of them competed at Olympic Games from 1968 to 2000, including Olympic champion Granat and double Olympic medallist Gauguin de Lully CH.
Wahl's passion is not limited to horses. He loves cooking, at which he is a master too, likes gardening and watching football, especially when his favourite club FC Bayern Munchen is playing.
Text and Photo © Silke Rottermann
Related Links
Training With a Master: Georg Wahl
Georg Wahl, 80 years old
Christine Stückelberger: From Equestrian Super Star to Ambassador of Classical Dressage
Granat, From Ugly Duck to Beautiful Swan
Gauguin de Lully CH, a Swiss Gentleman