2009-2010 KNHS/KWPN Stallion Competition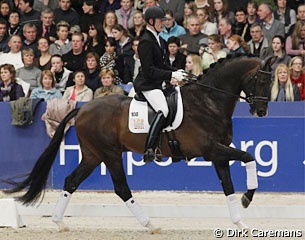 It came as no surprise that Andretti, Zhivago and Wynton won the finals of the 2009-2010 KWPN Stallion Competition held at the 2010 KWPN Stallion Licensing in Den Bosch on Friday on 5 February 2010.
Theo Hanzon and the black licensed KWPN stallion Andretti (by Special D x Sandro Hit) scored a total of 86,5 points and won the L-level division. The black stallion received a 9,5 for his uphill canter and 9 for suppleness and general impression. Emmelie Scholtens and Apache (by UB40) finished second with 82,5 points, while Scholtens also ranked third with Ampere (by Rousseau) on 78 points.
Hanzon also won the title in the M-division, this time aboard the super talented Zhivago (by Krack C x Jazz) with 86 points. The pair fended off Gerdine Marie on Ziesto (by Lancet), who finished second with 83.5. Hans Peter Minderhoud and Zizi Top ranked third with 83 points.
Only a mere two combinations participated in the Z-level finals. The trophy was an easy catch for Madeleine Witte-Vrees and the black stallion Wynton (by Jazz x Matador II). They scored 158 points, more than 12 points ahead of Emmelie Scholtens and Westenwind (by Flemmingh x Contango).
Related Links
Apache, Zhivago and Wynton Win Final Leg of 2009-2010 KWPN Stallion Competition 
Andretti, Zhivago and Westenwind Win Third Leg of 2010 KWPN Stallion Competition
Andretti, Zhivago and Wynton Win Second Leg of -2010 KWPN Stallion Competition
Andretti, Ziesto and Wynton Win First Leg of 2010 KWPN Stallion Competition in Assen 
Previous Winners
Zizi Top, Wynton and Vivaldi Win 2009 KWPN Stallion Competition
Wynton, Johnson, Dreamcatcher Win 2008 KWPN Stallion Competition Finals
Uptown, Tolando and Florencio Win 2006 KWPN/KNHS Stallion Competition Finals
Sandreo, Scandic and Rhodium Win 2005 KWPN/KNHS Stallion Competition Finals
Scandic, Ro-Lex and Prestige VDL 2004 KWPN Stallion Competition Winners
Rousseau, Paddox and Rubels Win 2003 KNHS/KWPN Stallion Competition