What's Happening in the Dressage World?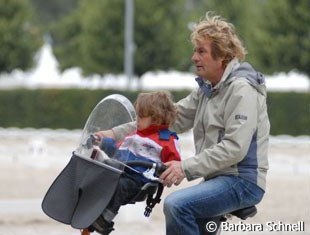 Dutch chef d'equipe and team trainer Sjef Janssen underwent knee surgery on the weekend of January 15-17. Janssen, whocelebrated his 60th birthday on Friday 15 January 2010 was back at his home in Erp, The Netherlands on Sunday.
The sponsorship of the MSP Pony Trophy, a show circuit to promote pony dressage in Belgium, will be taken over by Brokx Sport, the importer of Pikeur and Eskadron equestrian fashion in the Benelux. The circuit, which stimulates pony riders to move up all the way to FEI Pony Level, will now by called the Pikeur/Eskadron Pony Dressage Project. For many years MSP, the IT-company of Patrik and Brigitte De Deken, were the generous sponsors of this pony trophy which produced more FEI pony riders in Belgium than ever.
Luxembourg FEI Pony rider Michelle Thill acquired Josef Kathmann's rising 13-year old Oldenburg stallion Don Cardinale (by Donnerhall x Feinbrand x Aktuell). Michelle has been competing her pony Virgil and Daily Daylight last year and will now be combining pony classes with junior rider level tests on Don Cardinale. The black stallion was previously a multi-medal winning member of the Dutch young rider team under Coby's niece Marrigje van Baalen, who ended her young rider's career in 2009. Marrigje is currently riding two 6-year olds, Zorba (Ferro x De Niro) and Zigeuner (Gribaldi x Ehrentusch).
The 17-year old Trakehner stallion Gribaldi (by Kostolany) is officially retiring from competition at the 2010 KWPN Stallion Licensing in Den Bosch on 5th February 2010. The black stallion was a successful international Grand Prix horse under Edward Gal scoring highly at many World Cup Qualifiers, but the black lost his will to go in the show arena in the spring of 2007. At the 2007 Dutch Dressage Championships, the pair only got 57% in the Grand Prix and was withdrew from the competition. The stallion, which has been proclaimed Elite Sire by the Trakehner verband and Keur stallion by the KWPN society, never returned to the show ring. He did, however, prove his worth as a fantastic dressage breeding stallion and siredfor instance international super star Totilas as well as Anky van Grunsven's second Grand Prix horse Painted Black.
Australian Grand Prix rider Lyndal Oatley has acquired Kebie van der Heijden's Grand Prix horse Toy Story, a rising 10-year old Come Back II x Concorde offspring. Oatley is ecstatic about her new ride, she told Eurodressage. "I am really happy with Toy. We make a good team and he has a great character to work with. Hopefully will start him next month if things continue as they are right now, and start internationally soon after. Am very excited to get out there," said Oatley.
Tidningen Ridsport reported that theSwedish Eklunda Stud farm has invested in the Oldenburg licensing champion Sir Oldenburg (by Sion x Contendor). Previously owned by the Dutch Team Nijhoff, the black 12-year old Sir Oldenburg is trained at Prix St Georges level. He competed in the Bundeschampionate finals as a youngster and was Oldenburg regional champion as a 3-year old and reserve champion as a 4-year old. He will be doing the Swedish stallion performance test in Flyinge, March 2010.
Steffen Peters on Ravel, Isabell Werth on Satchmo and Anky van Grunsven on Salinero will head up an all-star cast at the2010 World Dressage Masters in Palm Beach next month that kicks off a second year of the globe's richest lineup of dressage events. The CDI5* event on Feb. 4-6 will be the first meeting of the three top combinations since the German and Dutch women were runners up to Steffen and Ravel at the World Cup in Las Vegas last April. Other top combinations are Canadians Ashley Holzer (Pop Art) and Cheryl Meisner and Paganini, Germans Ulla Salzgeber (Wakana) and Anja Plönzke (Le Mont d'Or), Dutch Stephanie Peters and Christa Laarakkers (Ovation), Danish MikalaGundersen (Leonberg) and Lars Petersen (Success) and Americans Leslie Morse(Tip Top), Lauren Sammis (Sagacious HF), Tina Konyot (Calecto V), Reese Koffler Stanfield (Gouberg's Kaspar) and Michael Barisone (Neruda). Other riders may qualify through a CDI3* a week before the event, or receive an invitation.
Italian Grand Prix rider Susanna Bordone, who is also an international eventer, gotsuspended by FEI for two months from competition as of 26th October 2009 because she received her second yellow card within 12 months time. Bordone got her first yellow card at the 2009 European eventing championships for "dangerous riding." She continued to jump her horse Blue Moss after three refusals. At the CCI 4-star in Pau she did some more "dangerous riding" as she continued to jump Blue Moss after elimination! It got her a second yellow card in one month time!
Theo Hanzon's 7-year old liver chestnut stallion I.P.S. Welt All (by Diamond Hit x Negro) has been sold. The stallion competed at the 2009 World Young Horse Championships in Verden and will stay in The Netherlands.
We always wondered what happened to FBW Deja Vu, the chestnut mare who become bronze medallist as a 5-year old at the 2005 World Championships for Young Dressage Horses. FBW Deja Vu (by Dacaprio x Gluckspilz) is bred by Alfred Schmelcher, the president of the Baden Wurttemberger Breed Society, and was owned by Nadine Plaster and her partner Simon Kohlenbrenner, when she was ridden by Plaster in Verden. The mare also finished fourth as a 6-year old at the 2006 World Championships. It was known that she was for sale and soon after Verden she disappeared to Great Britain. Eurodressage caught up with British owner Emma Jane Blundell who told us that she is now a brood mare as she sustained an injury. In 2009 she produced her first foal by For Compliment (by Fidermark x Compliment) through E.T. and for 2010 she's expecting an E.T. foal by Furstenball (by Furst Heinrich x Donnerhall).
Bad luck for Danish team rider Sune Hansen and his fiancee Emily Ward.Thieves broke into their house and robbed a computer and a television. More thieves broke into Hansen's lorry and stole tack!
Congratulations, Hayley Beresford has been officially proclaimed cancer free!! The Australian Olympic team rider was diagnosed with cancer in 2005 and battled the disease successfully while she continued training and riding with Isabell Werth. She made it to her first Olympics in Hong Kong as a 30-year old riding the Lusitano stallion Relampago do Retiro for the Australian team.
We just heard that American FEI rider Rick Rockefeller-Silvia is selling his beautifulfarm in Wellington, Florida! A great opportunity for those looking to invest in Welly property.