Danish Dressage News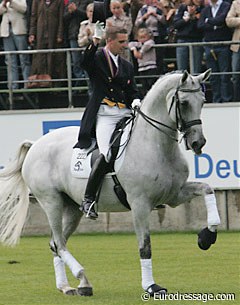 The world famous dancing grey mare, Blue Hors Matine, was humanely put down today after a tragic accident in the field. A passer-by had noticed there was something wrong with the grey mare in the field and notified a staff member at Blue Hors.
"There was no doubt about it that Matine had broken her left front leg at the knee," said the saddened Blue Hors manager Esben Møller. "The vet immediately diagnosed that there was no way possible to save her life."
The career of Matine (by Silver Moon x Matador) was that of a shooting star rising high and then unfortunately crashing down like meteorite. Though she was well known in Denmark as a young dressage horse, she made her international break through and fame at a very rapid speed. Within one year she premiered at Grand Prix level and won individual silver and bronze at the 2006 World Equestrian Games.
And that is when her career virtually ended. The mare competed successfully at a few more World Cup qualifiers in the winter of 2006-2007 but she injured herself slipping off the trailer at the 2007 World Cup Finals in Las Vegas. As of then Matine continously struggled with injuries and never returned to the show ring.
In August 2009 Møller announced that Blue Hors had given up the fight to get her back to full health. They gave the mare a peaceful retirement as a broodmare in the field and had planned on inseminating her with Blue Hors Zack' semen this spring. Matine spent her last days being "a horse" with her buddy, the retired team horse Blue Hors Cavan.
Matine's silver medal winning kur to music is to date one of the most viewed equestrian videos on Youtube.
Matine was bred by Inger Katballe and became 13 years old
Source: Ridehesten.com
Related Links
Struggle for Fitness is Over, Blue Hors Matine to Become Brood Mare 
Blue Hors Matine Not to Compete at the 2008 Olympic Games
Helgstrand to Ride Blue Hors Don Schufro At 2007 E.C. Turin
Andreas Helgstrand and Blue Hors Matine Withdraw at 2007 World Cup Finals
Andreas Helgstrand got misquoted in the German press on Matine's condition 
Blue Hors Matine Sold?
Matine, 2002 Danish Young Horse Dressage Champion