German Dressage News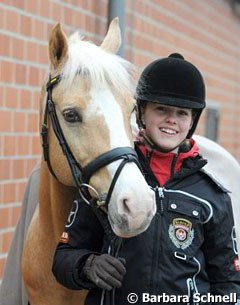 European gold medal winning pony Deinhard B has a new rider. The Rhineland based Walterscheidt family leased Deinhard B for their daughter Lena Charlotte from owner Sven Rothenberger. The palomino licensed pony stallion (by Dornik B), who became European Pony Champion in 2008 with Sönke Rothenberger, moved to his new home two days ago.
The rising 16 Sönke Rothenberger had become too tall for ponies and has taken an interest in show jumping. The youngest of the Rothenberger clan, Semmieke, is too young and small for Deinhard so the Rothenbergers decided to lease him to a talented rider until Semmieke would be ready for him.
"Lena Charlotte was in school when her parents and groom picked up Deinhard. She would get a great surprise that evening," Sönke's mother Gonnelien Gordijn said. "Sönke insisted on loading Deinhard on the truck himself. And of course there were tears but we are very sure that this pony will be a fun partner for Lena as much as he has been one for Sönke and his previous rider Anna von Negri.".
Lena Charlotte Walterscheidt is trained by Marion Schleypen and finished 6th at the 2009 Rhineland regional championships for with her other FEI dressage pony, Der schlaue Fuchs (by Dornik x Domingo). Walterscheidt has an incredible team of ponies. Besides Der Schlaue Fuchs she also rides the 5-year old Die-Da BE, the FEI pony Mac Duncan, the stallion Don Davidoff, and Acapella B
Photos © Astrid Appels
Related Links
Sönke Rothenberger Wins Individual Gold at 2008 European Pony Championships
Deinhard B and Dino P Sold to Sven Rothenberger
Deinhard B and No Angel Take The Silver and Bronze at 2004 Bundeschampionate