American Dressage News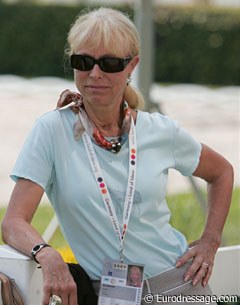 Anne Gribbons has entered into a contract with the United States Equestrian Federation to serve as the USEF Dressage Technical Advisor through 2012.
The Technical Advisor role will include the coordination of all aspects of the USEF Dressage High Performance Coaching Program.
Gribbons will oversee the training and preparation of US riders and horses as they prepare for World Championship, Pan American Games and Olympic competition. She will advise the USEF Dressage High Performance Committee regarding the allocation of training grants and the selection of athletes for teams. Gribbons will monitor the form and soundness of prospective horses and the form and riding skills of candidate riders in order to identify areas for improvement.
Earlier this year, following a search for a replacement for USEF's former dressage coach Klaus Balkenhol, Gribbons was offered a dual position as USEF Dressage Chef d'Equipe and Technical Advisor. At the FEI General Assembly in November 2009 Gribbons was named to the FEI Dressage Committee for a term extending through 2013. In order to remove any potential conflicts of interest regarding her participation on the FEI Dressage Committee it was agreed that the Chef d'Equipe position would be filled by the Managing Director of Dressage.
The USEF will fill the role of Dressage Managing Director/Chef d'Equipe in the near future.
James Wolf, USEF Executive Director of Sport Programs stated: "The USEF is very fortunate to have Anne working for us in the capacity of Technical Advisor. She is an outstanding horsewoman. Her experience as a rider, judge and coach make her uniquely suited for this position. I am certain that she will elevate the standards of our dressage program and be invaluable to the efforts of our dressage athletes as they prepare for, and compete in, international competition"
"I am honored to have the confidence of the Elite Athletes and excited about the prospect of working with our talented riders and horses," said Gribbons. "Our most important immediate mission is to qualify for the 2012 Olympic Games, either at the World Equestrian Games or the Pan American Games. Our long range goal is to be ready and able to medal in London in 2012. The United States is already a great dressage nation. We will strive to further develop our wonderful horses and riders and to tie our national and international programs together from ponies to High Performance in a way that will one day make us invincible."
Photo copyrighted: Mary Phelps/Phelpsphotos.com
Related Links 
Anne Gribbons Appointed U.S. Dressage Chef d'Equipe
USEF Confirms Anne Gribbons' Appointment as Chef d'Equipe
No Official USEF Role Granted Yet to Thomsen. Gribbons To be All in One Chef
The Search is On for New U.S. Dressage Coach