2009 Young Riders World Cup Finals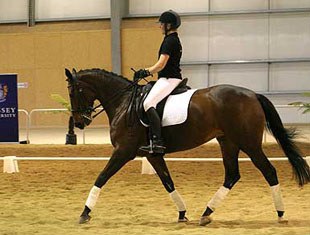 Pacific League qualification Hannah Appleton from New Zealand is preparing herself for the 2009 FEI Young Riders World Cup Finals at Ann Kathrin Linsenhoff's Schafhof in Kronberg, Germany. Hannah and her Hanoverian mare Zactac Graceful (by The Graduate out of Singapore Girl (by Le Falu xx)) left New Zealand on 23 November on the long flight to Luxemburg via Los Angeles.
"The flight went very well," Appleton told Eurodressage. "We loaded Grace in Auckland, New Zealand early morning and departed at 8.15am. We flew to Los Angles with a flight time of 11 hours. Then the plane was compeltly emptied besides my horse and reloaded. This took about 2 hours and then it was another 10 hours to Luxembourg. It ook one more hour to get the plane unloaded so it was a huge trip! Grace travelled amazingly well, as if she had done it all her life. She ate and drank along the way and came out looking in great shape."

Hannah has previously represented New Zealand in Australia in International Derbies on borrowed horses and at the Youth Olympics in Sydney, but this is the first time the combination have travelled together outside of New Zealand.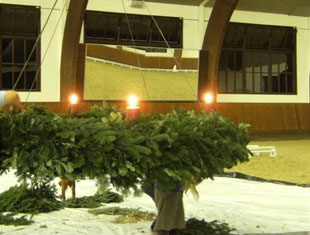 Appleton landed straight into Christmas at Schafhof, having left a New Zealand summer behind her. "The place is amazing, everywhere there are wreaths, decorations and lights. It looks very beautiful.
Her daily routine at Schafhof includes training, cleaning tack and exploring the area. "Martina Reuber picks me up from my hotel at 7.30am, then I ride at 8.30-9.00am, clean gear etc. It is lunch time at 1.30 pm and sometimes I go and have a look around Kronberg in the early afternoon if i need something, Grace is hand-walked and hand-grazed in the afternoon and fed for the night. It gets darker here much earlier than in NZ."

Hannah has been setting her target at this competition for two years and although they also qualified last year, Hannah decided to accept selection for the Youth Olympics instead. In 2009, the pair are the only qualified combination from the Pacific region. Sydney Olympian Kallista Field and Hubertus Hufendiek have been assisting Hannah prepare for this trip of a lifetime and wonderful opportunity. Hannah's parents and trainer Field arrive in Germany 10th December to support her at the show.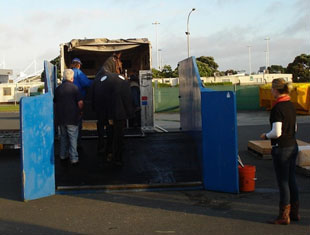 After the Young Riders World Cup Finals, held at the CDI Frankfurt December 17-20, 2009, Appleton will stay in Germany for three more weeks to train with Hufendiek at Hubertus Schmidt's stable. "Then we go to Newmarket in England where Grace is quarantined for 3 weeks before returning to NZ. She has to be quarantined for a further 2 weeks in NZ before she can return home."
Appleton's mare Zactac Grace is born and bred on the South Island of New Zealand. She was purchased by the Appleton family as a rising 5-year old from her breeder Helen Ensor of ZacTac stud and I have had her for the past 6 years. I am at University close to my trainer Kallista Field. Clemens Dierks, who lives in Sydney, comes to NZ every 6 weeks and Hubertus Hufendiek comes twice a year.
Hannah is a member of the Dressage NZ Young Rider A Squad and as a student at Massey University in Palmerston North, renowned world wide for their veterinary teaching hospital and equine research, she and Grace are also supported by the university as a member of Team Massey who have developed facilities for students to have their horses based at the University.
Back to the 2010 World Cup index