2009 Young Riders World Cup Finals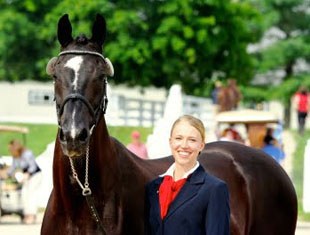 Amy Jager of Puslinch, ON, will represent Canada at the fifth annual 2009 FEI Young Rider World Cup Finals, which will be held at the CDI-W Frankfurt in Germany on December 17-20, 2009.
Jager of Puslinch, ON, was identified by the FEI as the Canadian representative for the World Cup based on her 2009 results at FEI competitions. She will be competing against the top young riders from around the world. Riders will get a taste of truly international, world-class competition during the Final, where they will contest the FEI Young Rider Team, Prix St. Georges and Freestyle tests.
"I have been dreaming of attending the FEI Young Rider World Cup Finals since I started competing at the FEI levels," said Jager, who is pursuing studies in Biological Sciences at University of Guelph. "I am so thankful for the support I have received to go on this trip. My plan is to go in the ring and really ride and not be complacent. I want to really ride for my country."
Jager and her 18-year old Dutch warmblood Jive (by Ulft) qualified with an average score of 68. 725%. The pair won all the Young Rider tests at the CDI-W Beaulieu International Dressage Classic, held at Beaulieu Farm in St Justine de Newton, QC, August 6-9, 2009, scoring 66.053% in the Individual test and 69.850% in the Freestyle. At the CDI-W Blainville Summer Classic, held in Blainville, QC, June 18–21, 2009, Jager and Jive won the Young Riders Freestyle test with a score of 67.600%.
Jager has worked her way up through the levels with Jive since he was purchased five years ago. In 2006, they were part of the Canadian Junior Team who brought home a silver medal at the North American Junior Young Rider Championships (NAJYRC). They began competing in the Young Rider division in 2008 and were also members of the bronze medal winning Young Rider team at the 2008 NAJYRC. 
Jager will be heading to Europe with Jive and will continue training with her coach David Marcus.
The judging panel at this year's competition will include Katrina Wuest (GER—FEI O), Mariette Withages (BEL—FEI O), Dr. Vincenso Truppa (ITA—FEI O), Maribel Alonso de Quinzaños (MEX –FEI O) and Gustaf Svalling (SWE—FEI I).
Please visit Jager's online blog of her FEI Young Riders World Cup Final trip at http://amyandjivesworldcup.blogspot.com.
Canada has been represented in past FEI Young Rider Dressage World Cup Finals by Alexandra Duncan and Jessica Rhinelander with the best placing occurring in 2006 when Alexandra Duncan of West Vancouver, BC placed fourth on her horse Elektra.
Back to the 2010 World Cup index