2009 Oldenburg Stallion Licensing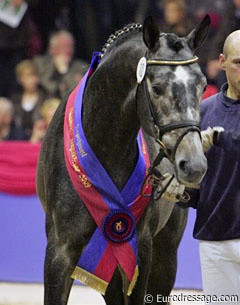 An out of the ordinary champion was chosen at the 2009 Oldenburg Stallion Licensing in Vechta, Germany, on November 21, 2009. Not a traditional Sandro Hit offspring, but a Holsteiner x Arabian/Oldenburg mix became licensing champion. And the colour of this horse was not the typical black, but grey!
Aloys Schmidt's 17.0hh grey stallion by Flemmingh out of State Premium Mare Identify (by Inselfürst x Argentinus x Bariton) showed himself very consistently during the three licensing days. This long legged, slightly narrow stallion has a gorgeous front: expressive face, beautiful uphill neck and a fantastic front leg usage. He is a bit long in the back and weak in the loin but he moved on the hard surface, lunge line and in freedom with much expression and spring. On the lunge he flexed the right hind hock less in canter especially on the right lead.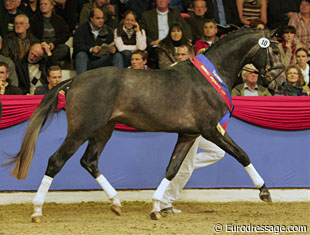 On the final day, this grey colt became one of the crowds' favourites and was welcomed with much cheering into the ring. He always moved uphill and with flair but he could have moved the hind legs quicker and more towards the gravity point. In walk this modern horse with his very interesting pedigree showed much ground cover, though he could have flexed the hocks more instead of mainly lifting his hind legs with his knees.
"This stallion has a correct conformation and showed himself well on all three days," selection committee member Ulrich Henschke told Eurodressage. "He could have been more closed in the frame in trot but he performed well on the lunge line."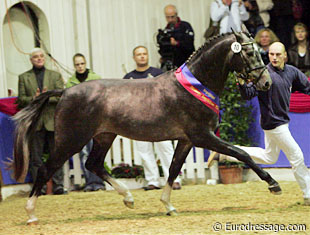 At the auction after the licensing this grey champion sold for 250,000 euro, the top knock down price, to Americans Doug and Louise Leatherdale. The stallion will stand at stud at Jens Meyer's station in Dorum, Germany. Doug Leatherdale is the president of the American Hanoverian Society and is the owner of the late Hanoverian licensing champion His Highness. He and his wife Louise currently own many other Hanoverian approved stallions such as Hampton and Damsey as well as the Trakehner Licensing Champion Herzendieb. The Leatherdales stepped outside the box by acquiring the Flemmingh x Inselfurst.
"He is definitely far from the Hanoverian bloodlines," Louise Leatherdale admitted, "but that is one of the reasons we bought him. We need to infuse with new bloodlines and this might be the perfect one to help with this."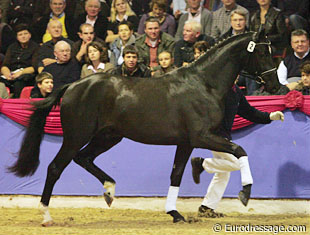 The reserve champion was the delightful black Oldenburg branded Dante Weltino (by Danone I x Welt Hit II x Noble Roi xx). Bred by Olaf Bahis and owned by Ernst Kemper and Norbert van Laak, this black stallion has an outstanding trot with a wonderful active, engaged hind leg that really steps under. His walk is good though he slightly looses clarity in rhythm when he gets tense. This colt could easily have switched places with the champion because of his modern sport model look, a dream for any dressage rider.
The colt initially sold at auction for 140,000 euro but the buyer then vaporized without signing the sale document. He was then represented and sold for 130,000 euro to the Swiss Baron von Le Fort, who sponsors Markus Gribbe in Germany.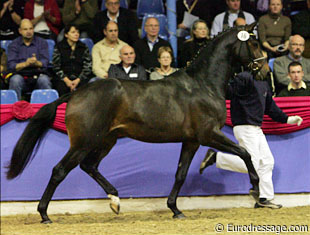 Twenty-two stallions in total were licensed this year and only 8 made it into the premium ring. The third ranked premium stallion was the Blue Hors stud owned Hotline x Florestan x Donnerhall x Classiker, bred by Georg Sieverding out of the granddam of last year's licensing champion Furstenball.
This dark bay stallion has a nice sporty conformation but is a bit steep in the shoulder. The hindlegs, which were typical for all Hotline offspring, were active but could have flexed more in the hock and shown more understep. In walk this colt had much overtrack but was a bit slow in the rhythm and tended to go lateral when tense. In general he was an impressive stallion with good self carriage.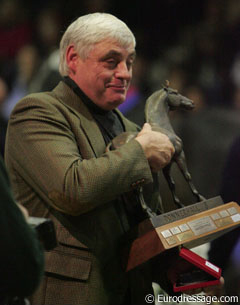 The fourth ranked premium stallion was surprisingly Shooting Star (by Sir Donnerhall x Banditentraum x Schwalbenherbst). The dark bay colt with a very appealing front but long and weak back and hind legs without enough reach already got remarkably approved and now the committee even put him in the premium ring. Yes his blood is very interesting but the horse failed to impress in hand, in freedom and certainly over the jumps!
Further premium stallions were Berlusconi (by Belissimo M x Florestan I x Donnerhall - which sold for 47,000 euro to Swedish horse dealer Johan Ifverson), Diamo Gold (by Dimaggio x Ex Libris x Grundstein II), Sunrise (by Sir Donnerhall x Rohdiamant x De Niro) and Chico's Hero (by Chico's Boy x Landcapitol x Renoir I).
Quite interestingly, this year some of the best horses were not selected for the premium ring because they were not Oldenburg branded. Probably the best stallion of this year's licensing was the Belgian warmblood branded Sir Donnerhall x Florestan x Codex x Landadel named Bailamos Biolley. Bred by former Grand Prix rider Brigitte de Biolley and owned by her daughter Stefanie de Saedeleer, this dark bay colt was absolutely the stunner of the licensing despite his small conformation (164 cm). The colt moved with much elasticity and suppleness and was very well engaged from behind. He could have had more lift in the shoulder to make the front leg even prettier. He had a large, ground covering walk though he did grind his teeth while being handled. He will stand at stud at Gestut Sprehe.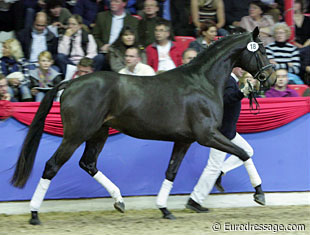 The Danish branded Lauries Crusador xx x Rambo x Schwadroneur/T x Donauwind/T is also a great addition to the Oldenburg breed.
This very attractive bloodline would be refreshing for the breed. The long legged licensed stallion has dressage written all over his body. He has nice shoulder freedom and a good motor behind. He could have had a tiny bit more flexion in the hocks, especially in canter. In freedom the stallion preferred to canter on the left lead instead of the right. This stallion sold for 30,000 euro to Cok Mudde's Magic Stables in The Netherlands.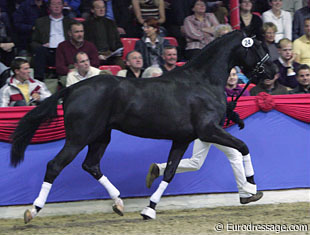 The Hanoverian branded San Francesco (by San Remo x Frenchman x Welsh City xx x Winnetou) was a crowd pleaser as well. The black stallion is bred by Volker Wulff, the ceo of the equestrian marketing company Engarde who received great-great granddam Lady as a present from his parents for his Protestant confirmation when he was 13. This wonderful colt had one of the best trots of all stallions. He moved with much presence and self-carriage always rhythmical and with much suspension. Unfortunately in canter he did become much flatter and lost some points there. His walk was good. Conformation wise the black stands a bit narrow in the hocks and his left front leg stands slightly toe-out.
A huge Spanish delegation was in Vechta on a shopping spree. Pepe de la Lastra from Madrid acquired the San Remo x Frenchman for 100,000 euro. His group also purchased Ann Kathrin Linsenhoff's licensed Silver Black (by Sandro Hit x Donnerhall - 50,000 euro), a Don Gregory x Rubinstein (45,000 euro) and the non-licensed Furst Grandios x Justinian (8,000 euro) and San Remo x Lauries Crusador xx (14,000 euro).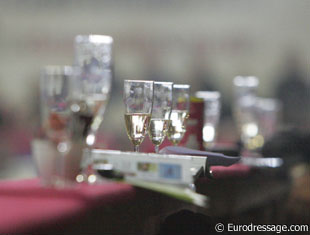 Danish customers acquired three licensed stallions. The Licensing champion in show jumping, a Last Man Standing offspring, sold for only 80,000 euro to Andreas Schou and Paul Schockemohle. Horse dealer Klaus Munkedahl acquired the Samarant x Dream of Glory for 36,000%. Niels Grøndahl bought the Sandro Hit x Brentano II for 45,000 euro.
"We had a dressage collection which was good overall but there was no real highlight," breeding director Wolfgang Schulze-Schleppinghof said after the licensing. "Because there was no highlight it was hard to pick a champion but we in the end we chose new blood with jumper blood in the pedigree. We believe that jumping blood will be good for dressage breeding."
Text and Photos © Astrid Appels
Don't Miss our Diary Notes from the 2009 Oldenburg Stallion Licensing
Related Links
Furstenball Sets Sensational Record at 2006 Vechta Foal Auction 
Furstenball and Bentley Not in Herning for the Danish warmblood Licensing
Belissimo M x Weltmeyer Colt Impresses at 2008 Hanoverian Stallion Licensing
Hanoverian Licensing Champion, Soliman de Hus, Returns to Germany
Furstenball, Champion of the 2008 Oldenburg Stallion Licensing
Sieger Hit, Champion of the 2007 Oldenburg Stallion Licensing
Sandro Hit Euphoria At 2006 Oldenburg Stallion Licensing
Marketing Above Quality at the 2005 Oldenburg Stallion Licensing
Furst Heinrich Fledglings Fly High at 2004 Oldenburg Stallion Licensing
Don Kennedy, Champion of the 2003 Oldenburg Stallion Licensing