2009 CDI Stuttgart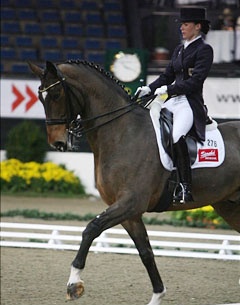 "I'm speechless," said Kristina Sprehe and took a deep breath. The 23-year-old from Oldenburg in north Germany hast won the 2009 Piaff Forderpreis Finals sponsored by the Liselott Schindling Foundation at the CDI Stuttgart. The win in the Finals test gave her the overall victory in the "Piaff Förderpreis" competition for Germany's Under 25 riders.
Third on Thursday in the preliminary class, the economics student and her 13-year-old gelding Royal Flash were awarded 67.191 per cent by the international jury. "It was a big improvement over yesterday," commented the highly delighted Kristina Sprehe, especially when seen in light of her previous day's 64.293.
Sprehe relegated the favourite for the final victory and last year's winner Marion Engelen, who was given 67.064 per cent for her ride on the 9-year-old gelding Diego, to the runners-up spot. Two places behind in third was Kirsten Silber whose performance on the 11-year-old gelding Charly WRT was awarded 65.660 per cent.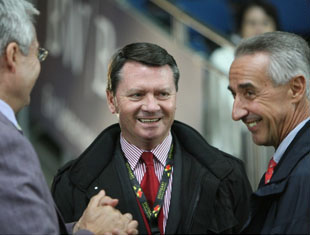 National dressage coach, Holger Schmezer and horse show director Gotthilf Riexinger both agreed, "Kristina Sprehe is a worthy winner!" Schmezer was patently pleased with the high standard of the performances. "It's simply quite something for young riders to come and ride here in the Hanns Martin Schleyer Halle."
Kristina Sprehe, the 2006 German Young Riders Champion, also wants to compete in the Piaff-Förderpreis next year. This year's competition was the ninth time it has been held in Stuttgart and Gotthilf Riexinger thanked, on behalf of all the participants, the founder of the Liselott Schindling Foundation, Klaus Rheinberger, who was prevented from being present on Friday, for all its activities to support Germany's up-and-coming riders.
Photo courtesy: Stuttgart German Masters
Related Links
Scores 2009 CDI Stuttgart
Matthias Alexander Rath Wins 2006 Piaff Forderpreis
Scores 2006 Piaff Forderpreis Finals 
Jessica Werndl wins Piaff Forderpreis Selection Trial
Ellen Schulten-Baumer Wins First Piaff Forderpreis
Scores 2002 Piaff Forderpreis Finals 
Scores 2003 Piaff Forderpreis Finals 
Riders Selected for 2004 Piaff Forderpreis Circuit