FEI Dressage News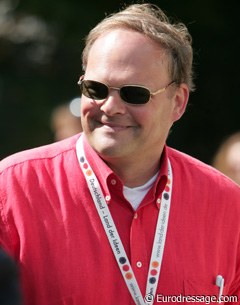 The highly respected German veterinarian Dr. Bjorn Nolting got the boot from the FEI during the Lord Stevens ethical and clean sport committee session at the 2009 FEI General Assembly in Copenhagen, Denmark.
Nolting was the German team vet at the 2008 Olympic Games who administred lactanase, a metabolic enhancer, and arnica, to team horse Cornet Obolensky without declaring it.
The grey Belgian warmblood licensed stallion (by Clinton x Heartbreaker) collapsed in Hong Kong after the treatment, but recovered quickly and was pushed by his rider Marco Kutscher to perform another round in which he refused and collected 19 penalty points. The lactanase and arnica treatment are only considered as doping when it is not officially declared to the show veterinarian.
At the Gernal Assembly today, the Lord-Stevens ethic and clean sport commission decided to scratch Nolting from the official list of FEI veterinaries. Former German Equestrian Federation secretary-general Dr. Hanfried Haring was respectfully relieved from his position in the FEI Bureau. Haring represented the Western European national equestrian federations, which on the contrary clearly expressed their faith in Haring at the General Assembly. All German officials, who were aware of Cornet Obolensky's treatment in Hong Kong, will no longer be allowed to get an FEI position, which includes FN president Breido Graf zu Rantzau, chef de mission Reindhard Wendt and show jumping selector Peter Hoffmann.
On Thursday the General Assembly will vote on accepting these proposals from the FEI Bureau.
Related Link
German Team Vet Björn Nolting Says Bye Bye to Jumpers