2009 Irish Dressage Championships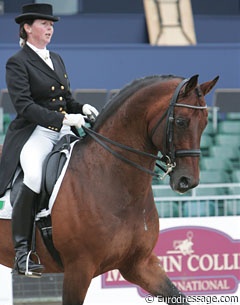 Yvette Truesdale became Grand Prix Champion at the 2009 Irish Dressage Championships held at the Cavan Equestrian Centre in Cavan, Ireland, September 25-27, 2009.
The venue boasts superb indoor facilities and onsite stabling and hosted the biggest Nationals so far with the full range of classes from Preliminary level to Grand Prix filling three full days of competition. Furthermore, a special celebration of the 20th anniversary of Dressage Ireland took place with a presentation made to all the past National Champions.
The Irish Championships are organized differently than most European national championships as there is no overall champion at small tour but individual class champions. At Grand Prix level there were, unfortunately, a mere three participants that challenged each other in the Intermediaire II and Grand Prix.
Yvette Truesdale, who has been training with Conrad Schumacher for the last five years and more recently with Ferdi Eilberg in the UK, became the new Irish Champion after winning the Grand Prix on Jim and June Burgess' 12-year old Oldenburg gelding Has To Be Fun (by Welt Hit II x Landadel). Yvette relegated reigning 2008 Champion Laragh Hamilton with the Irish bred Claggan Roxy Music to silver medal place.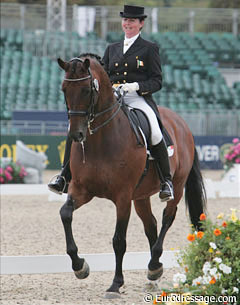 "I was very happy with his performance in both the inter 11 and the Grand Prix," Truesdale told Eurodressage. "He showed good quality changes and pirouettes and kept focused throughout. I was thrilled to be Irish National Champion as this was a goal i had focused on this year.

Yvette praises Has to be Fun for his bubbly character. "He can go from lazy to crazy in a flash! He has a very sweet nature and a fabulous work ethic which makes him a pleasure to train. He is a special friend to me."
Truesdale competed for Ireland at the 2009 European Championships in Windsor and is already qualified to represent her country at the 2010 World Equestrian Games in Kentucky.
Photos copyrighted: Astrid Appels
Results
Big Tour - Intermediaire II
1. Yvette Truesdale - Has To Be Fun - 64.82
2. Laragh Hamilton - Claggan Roxy Music - 62.45
3. Sarah Mellor - Fahrenheit - 59.73
Big Tour - Grand Prix
1. Yvette Truesdale - Has To Be Fun - 65.14
2. Laragh Hamilton - Claggan Roxy Music - 64.33
3. Sarah Mellor - Fahrenheit - 59.23 
Sue Smallman - Oakengrove Ideal - Withdrawn
Small Tour - Prix St Georges
1. Christiana Manoras - Tonka Wakkan - 63.77
2. Lucy Adams - Ben Hymn - 63.59
3. Anthony Byrne - Egano S - 63.33
4. Charlotte Walshe - Four Socks - 62.62
5. Katy Price - Korenbloem Ulster - 61.48
Small Tour - Intermediaire I
1. Lucy Adams - Ben Hymn - 65.61
2. Christiana Manoras - Tonka Wakkan - 64.38
3. Charlotte Walshe - Four Socks - 64.11
4. Anthony Byrne - Egano S - 62.80
5. Katy Price - Korenbloem Ulster - 60.96
Small Tour - Intermediaire I Kur to Music
1. Anthony Byrne - Egano S - 67.37
2. Charlotte Walshe - Four Socks - 66.252
Katy Price - Korenbloem Ulster - Withdrawn
Related Links
Truesdale On Song At 2007 Dressage Ireland Winter Finals
Heike Holstein, 2007 Irish Dressage Champion
Laragh Hamilton, 2006 Irish Dressage Champion
Heike Holstein Wins Ninth Irish Dressage Champion's Title