American Dressage News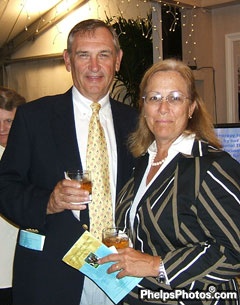 With Anne Gribbons' acceptance to become U.S. Dressage Technical Advisor an involuntary conflict of interest arose as Gribbons was also listed as the president of the ground jury for the 2010 World Equestrian Games held in Lexington, KY, in September 2010.
The FEI immediaitely looked for a substitute who would replaced Gribbons, also a member of the newly appointed FEI Dressage Committee, and found one in another American O-judge.
The FEI confirmed to Eurodressage that American Linda Zang has been appointed President of the jury. She will join Mary Seefried (AUS), Cara Whitham (CAN), Stephen Clarke (GBR), Evi Eisenhardt (GER), Maribel Alonso (MEX), and Ghislain Fouarge (NED) on the panel of judges.
Linda Zang has played a critical role in the growth of dressage in the United States and has helped US dressage gain prominence in the international arena. Her career has spanned over 30 years and has made a significant impact on many facets of the sport. As an international rider, Linda competed with her horse, Fellow Traveller, at the 1978 World Championships and the 1979 Pan American Games, the latter in which the US dressage team won the gold medal.
As one of the top judges in the world, USEF "S" and FEI "O," Zang has officiated at over 32 World Cup Qualifiers, numerous World Cup League Finals, and the 1996 Olympic Games in Atlanta, GA. PhelpsPhoto: Jim Lewis and Linda Zang Linda has been one of the top leaders and promoters of US dressage in the international arena. She is also a highly-respected clinician, instructor, show organizer, and FEI Technical Delegate. She has played a leadership role on many committees of USDF, USEF, and the FEI.
Photo copyrighted: Mary Phelps/Phelpsphotos.com
Video clip on right top corner features Linda Zang as commentator at the 2009 World Cup Finals' dressage demo
Related Links 
Gribbons Signs Contract as U.S. Dressage Technical Advisor
Judges' Panels for 2010 Championships Selected