FEI Dressage News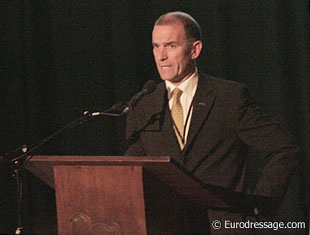 FEI Sport Director David Holmes discussed the rollkur upheaval at the 2009 General Assembly of the World Breeding Federation of Sport Horses (WBFSH) held in Copenhagen, Denmark and Flyinge, Sweden, November 3 - 5, 2009.
Holmes confirmed that the animal welfare issue surrounding the rollkur training method will be a topic of discussion at the 2009 FEI General Assembly in Copenhagen next week.
"This is for the dressage sport what a deadly accident is for 3-day eventing," said Holmes in reaction to the video that was released on the internet of Patrik Kittel warming up Scandic at CDI-W Odense in the rollkur and with a blue tongue briefly hanging out of the horse's mouth."
Holmes gave a presentation at the Assembly titled "What will the equestrian sport look like in the future?" He stated that the FEI takes this issue very seriously and is investigating it on two levels: a disciplinary investigation concerning Kittel and a research on its background, which entails the rollkur as training method.
"It is ironic that we will presumably conclude that Patrik hasn't done anything wrong," Holmes said. "We must investigate all involved and the exact witnesses who were there. We had a conference call about the matter this week and the steward involved gave a statement that he hadn't see the horse being worked in a negative way and hadn't seen any stress symptons like sweating, etc. The horse put the tongue out which became blue at one point, but that has happened to myself with one horse and Patrik fixed it as soon as he noticed it."
Holmes continued stressing the gravity of the matter. "This is an enormous affair, ten thousands of hits on the internet from all over the world and emails sent to our sponsors which order them no longer to sponsor the FEI or the equestrian sport," Holmes disclosed. "This seriously damages dressage and the image of the entire sport. We must see to the underlying questions, which means the rollkur as training method. Trainers and riders can say that we react to what happens on the Internet and social forums, but we would be dumb if we didn't do so. Trainers and riders must understand that they must be cleaner than clean."
Therefore, the rollkur is an item on the agenda of the FEI General Assembly. The FEI has already carried a review of the rollkur with an international panel of experts following criticism in the German press at the 2005 European Dressage Championships.
Source: Tidningen Ridsport
Related Links
At the Heart of the Matter at the 2009 Global Dressage Forum
FEI Veterinary Committee Condems Hyperflexion
FEI Workshop on Rollkur in Lausanne Leads to Redefinition
German Judges' Association Responds to FEI Rollkur Workshop
Heavy Reactions to Rollkur Photos of Power and Paint
Statement Concerning Rollkur Photos of Power and Paint