Greatest Oldies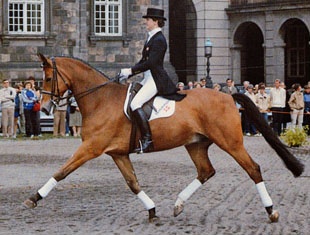 At the moment Denmark is one of the most competitive dressage nations, recently having won the 2008 Olympic bronze medal. But some decades ago Danish success in dressage came mainly from individual riders, who all had one thing in common: an elegant style of great easiness and harmony with the horse.
In the 1930s it were Peder Jensen and his very noble thoroughbred His Ex xx, who carried the Danish flag to success and impressed with a 7th place individually at the 1936 Olympic Games. After World War II in 1952 women were allowed to compete in dressage at Olympic Games for the first time and Lis Hartel from Denmark took on the chance to win the individual silver medal on her mare Jubilee, a success she repeated in 1956. Hartel not only became famous for being the first woman to win an Olympic medal in dressage. Suffering from polio she was very weak below the knees, but was able to form such a partnership of total understanding with her faithful horse.
At the time Danish dressage made itself a name through Hartel's success and the Hanoverian breeding in West Germany was trying to transform their products to lighter riding horses by using thoroughbred blood. A great influence became the German bred thoroughbred stallion Marcio xx, which stood at Celle State Stud. His offspring were often talented for dressage, such as Dr. Josef Neckermann's 1968 Olympic reserve horse Mazepa, which later was successfully competed by his daughter Eva-Maria Pracht.
Marcio xx was also influential on Danish dressage as he was the grandfather of the country's next equestrian superstar. His quality Hanoverian daughter Cheeky Girl came to Denmark and was covered by the Swedish warmblood stallion Herzog. Bred at the National Stud in Flyinge by the famous Trakehner Heristal, Herzog was later exported to Denmark.
So in 1973 a little bay colt with a sire from Sweden and a dam from Germany was born in Denmark. What is quite usual today was a rather unusual combination in the beginning 1970s.
Marzog, as he was named, grew up at the Rosekratz family at Liselund and was meant to be broken in when he was three years old. The breeders asked 25-year old Anne Grethe Jensen to help them. Jensen's then husband Tony was a good dressage rider and trainer and came 12th individually the same year at the Olympic Games in Montréal-Bromont on the bay gelding Fox.
At the time Anne Grethe Jensen started to break Marzog she was looking for a horse. Jensens liked the lightbay gelding because he suited Anne Grethe and the more she worked with him the more she liked his strong personality. So in the end she wasn't looking for a horse anymore, because they bought Marzog and he moved to the Jensen's stable.
Although Marzog's character was quite dominant, as his rider recalls, he was a remarkable easy horse to train. In only four years he upgraded from Novice to Grand Prix. This was only possible thanks to his outstanding eagerness and the fact that he was an extraordinary quick learner. Everything was easy for Marzog and he really wanted to learn and please.
In 1980 Marzog was only seven years old and surprisingly won his first Danish Championships. He and his young rider were selected for the team to compete at the Goodwood Olympic Festival, an alternative Olympic Games for dressage, because the western countries boycotted the Games in Moscow for political reasons.
Although they very much were the newcomers on the international scene the pair finished 4th in the Inter II behind the winning pair from West Germany, Gabriela Grillo and the beautiful Grande-son Galapagos. Marzog wasn't fully matured then, but impressed with his natural way of going, which caused a certain kind of so far unseen lightness and elegance. He placed 11th individually. To crown Marzog's early start of his international career the Danish team won bronze.
From 1980 onwards Marzog's results were improving. In 1981 he finished 7th at the European Championships in Austria. At the 1982 World Championships in Lausanne he ranked 5th individually and won team bronze and in 1983 he finally captured the gold.
At the 1983 European Championships in Aachen reigning World champions Dr. Reiner Klimke and Ahlerich were clear favourites for both titles. It was not to be. Ahlerich wasn't always focused enough and Marzog excelled in an unbelieveable way to win the individual gold. Photographs of these competition show a "smiling" horse, a friendly expression that remained with Marzog throughout his entire career. His big dark eyes always looked very gentle.
After he had won the European title hopes were great for the 1984 Olympics. Marzog had proved that he was able to beat Ahlerich and the Danish team also hoped to get an Olympic medal. So Marzog flew out to Los Angeles with his companions Patricia and Stradivarius to attend his second Olympic Games at the age of only 11, his first of three flights to the American continent.
Anne Grethe Jensen and Marzog fulfilled the high expectations with a very good ride on the first day of the team competition, as they led the Grand Prix. Marzog had shown a high quality performance, in which the flying chances were outstanding. He was beaten to the second place in the Grand Prix on the second day of the team competition by his old rival Ahlerich, which had shown the best ride of his career. West Germany's team gold was secured and the Danish hope faded after their last rider performed rather disappointingly.
In the fight for the individual medals Marzog and Ahlerich had to start after each other, which surely added to the pressure. This time it was Ahlerich's gold, more than 60 points ahead of Marzog, who had not performed an ideal pirouette. Again it was individual silver for Denmark, 28 years after Lis Hartel's last one.
Of course such a talented and successful horse like Marzog would have brought large sums in a sale. Anne Grethe Jensen and her then husband decided against it. "The sport on top level with Marzog was a great experience and I would have never changed that for money!," she admitted.
Similr to Ahlerich in 1983 Marzog wasn't able to win the European title, which he had to defend, on home turf in Copenhagen in 1985. Whereas Ahlerich finally took this title, Marzog only got the bronze behind the Swiss pair Otto Hofer on the Dutch bred Limandus.
A year later a new competition circuit was founded that now is in its 25th year, the World Cup. In the spring of 1986 the first final was held in 's Hertogenbosch. After a qualifying Grand Prix test the riders had to show a freestyle to music. This new competition format was tailor made for Marzog, the lightfooted dancer. In his 7th year of international competition he was able to win the first ever World Cup Final with a very harmonious and easy looking freestyle.
Some months later he once again crossed the Atlantic to compete in the World Championships in Cedar Valley near Toronto. His longtime rival Ahlerich wasn't there (Klimke rode Pascal), but with Amon, Dynasty, Gauguin de Lully and Corlandus he had more than enough new rivals. For the last time the lovely bay and his rider were able to put in one of these wonderful performances to win the individual title.
Only a year later Marzog's glorious international career ended in a vet check, like the ones of Corlandus and Rembrandt later on. After he achieved the 2nd place in the 1987 Worldd Cup Final behind Gauguin de Lully, he sadly failed the vet check at the European Championships in Goodwood where his career had started years earlier.
When asked which win meant the most to her in all these years, Marzog Anne Grethe Törnblad (as her name is today) answered, ,"that is difficult. The first big thing were the European Championships in Aachen, it was a breakthrough for us. The Olympic Games and the World title come close. It is always difficult to win medals and when you did it four years in a row you acknowledge how difficult it is and seen in perspective this is even more true. So all wins are great."
Marzog, whose rider will forever be grateful for all the experiences he enabled her to enjoy as well as the journeys around the world, was retired to Anne Grethe and Leif Törnblad's farm near Copenhagen. Although a kind horse in the stable he would start kicking, if he felt left alone and he demanded full attention.
After five years in retirement Marzog very sadly had to be put down due to his weak heart in the summer of 1991, aged only 18. He was a horse of tremendous ability and personality and Anne Grethe Törnblad is sure that she "will never find a new Marzog, but at the moment I maybe have the best two horses since then and both are born here on our farm."
Tension in dressage is not a completely new problem to this sport. It was always more or less existent, no more than today. Marzog will be remembered because of how supple a horse could be. He was able to perform brilliantly at the highest level and earn titles and medals despite the pressure. Would he stand a chance in today's dressage?
Article by Silke Rottermann
Photo courtesy: Hugo Czerny - We like to express our special thanks to Mr. Czerny for sharing his photos with Eurodressage.
Related Links 
Greatest Oldies: Dutch Courage, a Pioneer for British Dressage
Greatest Oldies: Dutch Gold, Like Father Like Son
Greatest Oldies: Dr. Reiner Klimke's Ahlerich
Greatest Oldies: Nicole Uphoff's Rembrandt: A Living Work of Art
Greatest Oldies: Absent, An Akhal Teke on the Olympic Stage
Greatest Oldies: Pepel, A True Legend of Russian Dressage 
Greatest Oldies: Dynasty, A Horse Who Lived Up to His Name