2009 CDI-W Lyon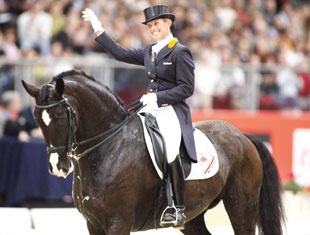 Triple Olympic champion Anky Van Grunsven of The Netherlands finished a long way ahead of the rest of the field when securing her second consecutive victory with Salinero in the 2009 FEI World Cup Dressage series at Lyon, France tonight.
The absence of her fellow-countryman, Edward Gal, after an unfortunate accident with Sisther de Jeu yesterday, left her clear favourite to top the scoreboard and she won with a comfortable margin of more than five percentage points over runner-up Monica Theodorescu from Germany riding Whisper.
Third place went to Denmark's Nathalie Zu Saeyn-Wittgenstein and Rigoletto whose indoor season debut on her home turf at Odense two weeks ago was spoiled by the gelding's nervousness which led to their retirement during the Grand Prix.
Tonight however the 34 year old Danish Princess produced an excellent Freestyle to finish ahead of Dutchman Hans-Peter Minderhoud with Escapado.
FREE REIN
Gal disappeared from the reckoning just moments before his scheduled appearance in yesterday's Grand Prix when Sisther de Jeu, who had been so exciting to watch when finishing second in Odense, bit her lip which then started to bleed. His withdrawal from the competition gave Van Grunsven a free rein, and she took full advantage with her Esprit Chanson music when scoring 77.021% to win ahead of Theodorescu and Whisper who earned a mark of 72.085%.
And tonight the Dutch lady, after whom a street has been named in her home town of Erp, received a standing ovation from the 5,500 spectators as she took her lap of honour. "I'm very happy now" Anky said afterwards "but I was a bit worried in there because Salinero was getting a bit hot. I thought I might not finish my first extended trot because he was getting so strong he almost took off on me, and I didn't need to ask for the extended canter because he did it all on his own!" she pointed out. "He was a little tense in places, but overall I'm very happy, and I have to say I was even more happy with the Grand Prix yesterday" she added.
BUZZING ATMOSPHERE
The large, enthusiastic crowd and bright lights were a big challenge for Nathalie Zu Sayn-Wittgenstein who was last into the arena. The super-sensitive Rigoletto was initially tense in the buzzing atmosphere, and she was hoping that she would not find herself in the same position as she did on her last outing when she was forced to retire. However the 13 year old Danish Warmblood eventually relaxed "and he was so much better this time, I was very satisfied with how he went" she said when scoring 75.50%. This was good enough for third place behind Theodorescu with a mark of 76.45% while Van Grunsven's 82.00% winning score was achieved when she was placed first by all five judges.
Both Anky and Nathalie commented on the relatively small field of starters. With Gal withdrawn there were just nine in the competition "and it is a pity" said the winner, "because this is such a lovely venue". Switzerland's Marcela Krinke-Susmelj and Corinth slotted into fifth place with a score of 71.75% while America's Catherine Haddad and Cadillac finished sixth on 70.00%, European bronze medallist Laura Bechtolsheimer finished seventh with Andretti H on 67.65% and fellow-Briton Dane Rawlins was eighth with Sydney on 65.75%. Portugal's Carlos Pinto and the Lusitano stallion Poderoso de Retiro finished ninth with 65.50%.
Back to the 2010 World Cup index