2009 Chinese Dressage Championships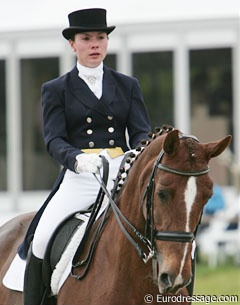 Lina Liu won the individual gold medal in dressage at the 2009 Chinese Games held in Jinan, October 11-23, 2009. The team from the Guadong province won the team gold medal. Almost all horses that competed at these Chinese Games were sold by PSI's Hof Kasselmann, which has strong connections with equestrian athletes from Asia. Chinese riders often travel to Germany to train there and buy horses.
The 11th National Games of People's Republic of China were held in Jinan from October 11 to 23, 2009. It is the second largest sporting event held in China after the Olympic Games in Beijing in 2008. The National Games, held every four years in China, exhibits the highest standard of competition in the largest scale with the largest number of participants from the entire country.
Born into an ethnic Russian family in Urumqi, Lina Liu was the first Chinese dressage rider to qualify for the 2008 Olympic Games in Bejing. One year later at the National Games, Liu of the Xinjiang team won the individual gold medal aboard the Holsteiner bred Pine Valley No1 (aka Cortez - by Caretino x Lantaan). Liu won the individual test with a score round 71%. This 30-year old Chinese rider travels to Germany regularly to train with Stefanie Kerner at Ulli Kasselmann's stable in Hagen. Her previous successful horse was Piroschka, which she showed at the 2008 CDI Hagen, CDI Fritzens and Sunshine Tour.
Gu Bing of the Guadong team won the silver medal aboard the former PSI auction horse Donovan Bailey (by Donnerhall x Pik Bube). Lan Choa of the Xinjiang team claimed the bronze medal. This rider also spent some months in the Kasselmann training camp in order to prepare for these National Games.
The dressage team competition was an exciting and hard fought battle. At the end of the day the Guadong team, which included horses such as Donovan Bailey and the German bred mare Calinka (by Donnerhall x Zeus) for gold. They narrowly beat team Xinjang. Bronze went to the team from Zehjiang.
Results
Dressage Individual
1. Lina Liu - Pine Valley No 1 - 143.052 (Xinjiang)
2. Gu Bing - Donovan Bailey - 138.473 (Guangdong)
3. Lan Chao - - 134.947 (Xinjiang)
4. Liu Zhong - Pine Valley Star - 130.631 (Xinjiang)
5. Cai Qiao - Mr. Smart - 129.579 (..)
6. Huang Zhuo-Qin - Uris - 129.263 (Guangdong)
7. Ji Desheng - Power Basiruier Adams - 128.526 (Xinjiang)
8. Jia Haitao - Happy Dancer - 125.105 (Zhejiang)
Dressage Team Competition
1. Guangdong - 202.571

Cai Qiao - Mr. Smart
Tan Zhiqin - Ruyi
Huang Zhuo-Qin - Uris
Gu Bing - Donovan Bailey

2. Xinjiang - 200.172

Liu Zhong- Pine Valley Star
Ji Desheng - Power Basiruier Adams
Lan Chao - Jigme Ledrou
Liu Lina - Pine Valley No. 1

3 Zhejiang - 191.658

Li-jun - Kai-Yi Lu
Ge Rile - Manuel
Jia Haitao - Happy Dancer
Zhongxin - Yiboximu
Related Links
Lina Liu at the 2008 CDI Hagen
Photos from the Opening Ceremony of the 11th Chinese Games