2009 CDI-W Odense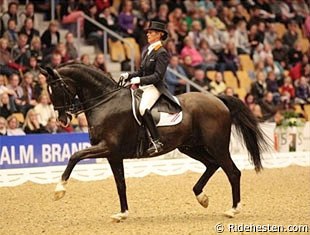 Anky Van Grunsven won the opening leg of the World Cup Dressage Western European League series in Odense, Denmark today with a great Freestyle ride from her Olympic champion Salinero. So often recently the Dutch star has been frustrated with her gelding's unwillingness to be still in halt, but today the 15-year old horse conquered his anxiety to produce a lovely test that pleased the judging panel of Wim Emes (Ned), Jean-Michel Roudier (Fra), Kurt Christensen (Den), Jacques van Daele (Bel) and Gotthilf Riexinger (Ger) to earn a winning score of 81.450.
"The judges really enjoyed the riding we saw today" said Mr Roudier afterwards. "Here, on the second day in Odense, the horses had improved significantly. As judges we like to give out eights and nines and we did" he added.
TENSE
Early-season uneasiness about returning indoors was clearly in evidence during yesterday's Grand Prix in which many horses were tense and spooky. Two riders retired during this competition, including Sweden's Minna Telde with Don Charly and Denmark's Nathalie Zu Sayn Wittgenstein with Rigoletto. Today however most were much more relaxed and attentive, and Salinero sparkled.
Van Grunsven's Dutch team-mate, Edward Gal, also thrilled spectators when guiding the eye-catching and extravagant mare Sisther de Jeu into second place. The 10 year old by Gribaldi had finished more than two full points behind Salinero yesterday afternoon, but today was very much closer when scoring 80.350. It is almost hard to believe it, but the man who already rides arguably the most exciting dressage horse in the world, Totilas, seems to have found a female version of the sensational stallion. There was no doubting Salinero's excellence in execution today, but the power, elegance and obvious potential of Sisther de Jeu is breath-taking. She filled the arena with energy, and her natural rhythm made the difficult exercises look relatively easy.
"I was very happy with the ride" Gal said, knowing that the mare is growing in confidence all the time. "When I tested the music with her one year ago she flipped out, but she didn't today". And he clearly feels there is a lot more to come from her. "Sisther de Jeu is a very good horse, but she needs time to develop - more time than Totilas did" he pointed out.
CALM
Sweden's Patrik Kittel finished third with Watermill Scandic HBC on a score of 76.250 and was very happy with the result. "My horse was calm, but I made some mistakes. He is still very young" the rider said of his 10 year old stallion. "The most important thing about any horse is its willingness to perform in the arena, and my horse wants to do just that" he added.
Monica Theodorescu and Whisper lined up in fourth place for Germany with a mark of 74.700 while The Netherlands' Hans Peter Minderhoud and Exquis Escapado finished fifth with 73.950 and Germany's Hubertus Schmidt and Hinnerk slotted into sixth with 72.450.
Unluckiest rider of the day was probably Katarzyna Milczarek who had only executed three movements before the judging panel spotted a problem with her horse, Edwador, who had bitten his tongue and was bleeding from the mouth. After a quick check by Ground Jury President, Kurt Christenson, the Polish rider withdrew her handsome grey stallion.
DUTCH DOMINANCE
This opening event of the 2009/2010 FEI World Cup™ Dressage season has again highlighted the Dutch dominance of the sport and Ground Jury member, Jean Michel Roudier commented, "we judge by specific criteria in dressage, and right now the Dutch are just better. The Dutch riders have very artistic performances and their horses, such as Totilas, have brought attention to dressage."
For many years, Anky Van Grunsven has held centre-stage, and she was pleased to be doing that again today with her great performance from Salinero whose first canter transition was untidy however. She said she was disappointed she hadn't scored higher because "I felt that it went just as well as it did during the European Championships where I received higher scores" but that she knew Salinero "worked with me today". She is planning to bring out Painted Black later in the season before deciding which horse to take to the final in s'Hertogenbosch (Ned) next March.
There was no doubt in Edward Gal's mind who deserved to be the winner. "Anky was the best today and that's why she won - that's how the sport works, and that's how it should be" he said.
Gal is expected to bring out Totilas for the next leg of the FEI World Cup™ 2009/2010 series takes place at Lyon, France in two weeks' time.
QUOTES:
Edward Gal - "Anky and I are competitors inside the arena, but we are good colleagues outside and I am very happy with the scores I got from the judges today".
Patrik Kittel - "The arena in Odense is a very nice place to ride because there are two arenas you can ride whenever you like, unlike other places where the arenas are occupied all the time."
Photos copyrighted: Ridehesten.com
-- FEI Press Release
Related Links
Scores - 2009 CDI-W Odense
Lindberg and Dufour Win Youth Classes at 2009 CDI-W Odense
Back to the 2010 World Cup index