2010 World Cup Finals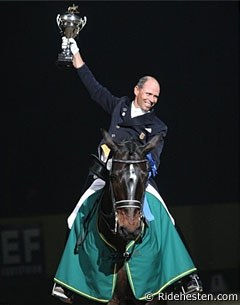 The best dressage riders and horses from the World Cup Dressage can be seen live and globally on FEI TV throughout the 2009-2010 indoor season. A series of live broadcasts on FEI TV will begin with the Western European League kick-off qualifier at the JBK Horse Shows in Denmark on Sunday, 18 October 2009, in Odense, Denmark.
FEI TV, the new official video website of the Fédération Equestre Internationale, will broadcast live the Freestyle test from 16h to 17h30 (CEST).
Further live broadcasts from the FEI World Cup™ Dressage 2009-2010 are planned from: Stockholm (SWE), 6 December 2009; Amsterdam (NED), 23 January 2010; Gothenburg (SWE), 27 February 2010; s'Hertogenbsoch (NED), 27 March 2010.
A NEW ERA HAS DAWNED....
When the World Cup Dressage series was first conceived back in 1985 it would have been difficult to imagine that this equestrian discipline would blossom as it has done over the intervening years. The series was created in the shadow of the super-successful Jumping World Cup, but such is the popularity of the Freestyle competition that it has firmly taken its place centre-stage in terms of public appeal.
Over 24 World Cup seasons, nine of them dominated by the talent of Dutch star Anky Van Grunsven, spectators have often been brought to their feet in an emotional response to spectacular achievement. But everything that has gone before seems to have paled in comparison to what has taken place over the last 12 months.
PRINCIPAL PROTAGONISTS
Van Grunsven and her great rival, Germany's Isabell Werth, were the two principal protagonists of modern times, but things were clearly beginning to change when the new Dutch partnership of Adelinde Cornellisen and Parzival swept to victory at the World Cup Dressage qualifiers in Stockholm, London and Mechelen last season, arriving at the 2008/2009 World Cup Final in Las Vegas in April with the highest hopes. A last-minute injury however kept them out of action, and instead another rising star got his chance to shine.
This was the show-stopping Ravel ridden by Steffen Peters who, under the bright lights of the Las Vegas arena, electrified the crowd with his pure showmanship and it seemed that nothing could match the excitement created by the victorious American duo on that final night.
SHATTERED THE RECORD
Three months later however yet another sensation would further destabilise the old order when, at Hickstead, Edward Gal and Totilas shattered the Freestyle world record set by team-mate Van Grunsven at s' Hertogenbosch in 2006. And the winds of change quickly increased to hurricane-force when the stunning nine year old black stallion broke the world Grand Prix record during the team competition at the 2009 European Dressage Championships in Windsor Castle the following month.
It didn't stop there, as record after record continued to tumble in the Windsor arena - Gal's Grand Prix Special target almost immediately bettered by Cornellisen before, with another magical performance from Totilas, he re-set the Freestyle record with 29 perfect-10 scores. The bar has been raised so high in the world of dressage that people are asking "just how much better can it get?" The 2009/2010 World Cup Dressage series kicks off at Odense in Denmark this Sunday, October 18th, so we are about find out.....
Western European League Calendar 2009/2010:
1 Odense (DEN), 17 – 18 October
2 Lyon (FRA), 29 – 30 October
3 Stockholm (SWE), 28-29 November
4 London Olympia (GBR), 15-16 December
5 Frankfurt (GER), 19-20 December
6 Mechelen (BEL), 26-27 December
7 Amsterdam (NED), 22-23 January
8 Neumünster (GER), 20-21 February
9 Göteborg (SWE), 26-27 February
FINAL 's-Hertogenbosch (NED), 25-27 March
World Cup Dressage, the only worldwide series in this discipline, has entered its 25th season. The series, created in 1985, comprises four leagues: Western European, Central European, North American (including Canada) and Pacific (Australia, New Zealand, Asia). Each World Cup Dressage qualifier consists of a Grand Prix test, which in turn is a qualification for the Freestyle to music competition, where league points are accumulated towards places in the Final. Judged on both technical and artistic merit, the World Cup Dressage combines art, sport and partnership between horse and rider at the highest level and consistently proves a winning formula with audiences all over the world.
Technical Note: The World Cup Dressage Champion does not earn points in his/her starts but is automatically qualified to the next Final with two World Cup Dressage qualifiers completed. Riders not belonging to the Western European League (WEL) or Central European League (CEL) cannot earn points in the WEL unless they have declared to compete in the WEL 2009/2010. These riders may however transfer the results from a maximum of three (3) WEL qualifiers to their own League. Points earned by CEL riders will be transferred to the CEL standings.
Photos copyrighted: Eclipse Sportswire - Eurodressage
Back to the 2010 World Cup index