Greatest Oldies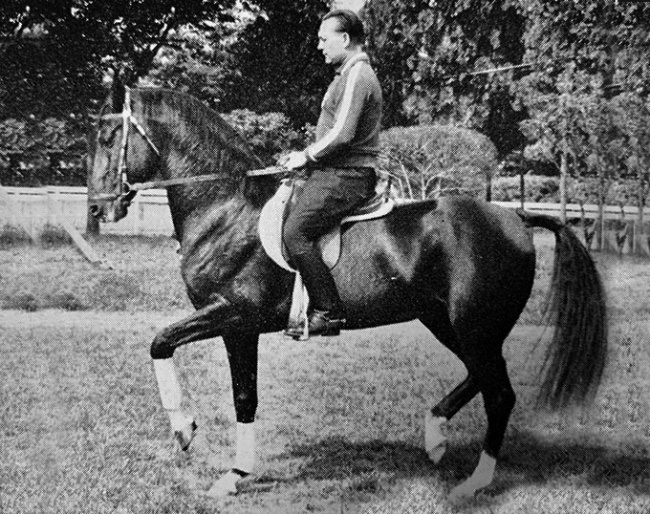 The Akhal Teke horse is one of the breeds which is not considered a horse for one of the Olympic disciplines. Often with buckskin colour and high in blood these horses from the Asian part of the former Soviet Union are rather exotic in Europe and more likely used for long distance rides than for dressage.
Nearly 50 years ago a representative of this breed, though untypical in some aspects, was the first horse from the Soviet Union really to bring this communist empire on the map of international dressage.
Absent could have been the dream of every horsey teenage girl. Born in 1952 at the Lugovskoi Stud he was deeply black with four white socks, a star on his face and big intelligent looking eyes. Not having the characteristic golden colour of the Akhal Teke Absent was still a real beauty and later called "the black swan" by experts. The stallion's body was very well modelled and he had a wonderful topline, perfect to become a dressage horse.
Absent was also quite well bred. His father was the white Akhal Teke Arab, who was raced and later won one of the most important showjumping competitions of East Europe, "The Cup of the Soviet Union" in 1949. In the same year Arab broke the high jump national record and improved it to 2,19 m. Absent is said to be also talented for jumping.
Unlike his sire Absent's mother Bakkara wasn't competed and had the typical golden colour for which this breed is famous.
The year Absent took on serious training was the one with the first more remarkable results for his country in the discipline of dressage. After disappointing results in the 1952 Olympics in Helsinki the Soviet dressage riders impressed Europe at the Stockholm Olympic Games in 1956 with their talented and very beautiful horses. Absent's trainer and rider Sergej Filatov came 11th there on Ingas. Little did he know where he would stand only four years later.
Absent was then only eight years old when he competed in his first Olympic Games in Rome in 1960. One of his rivals there, Germany's Dr. Josef Neckermann, judged him  "as the undoubtedly most beautiful horse of the 1960 Olympic Games." Absent went like a clockwork, especially in piaffe and passage: one step was like the other and he moved with great elegance ad lightness. The audience loved the black stallion and so did the judges, who awarded the Soviet pair 50 points more than the Swiss Gustav Fischer, who rode the only 7-year old Swedish bred Wald.
Just eight years after they first appeared on the Olympic dressage stage the Soviet Union had its first Olympic Champion. The victory in Rome came not completely unexpected. A year before Filatov had led the then 7-year old inexperienced Akhal Teke to a second place at the FEI show in St. Gall finishing behind the Swiss established rider Henri Chammartin on his experienced Olympic horse Wöhler.
A year after Rome the best riders competed at Aachen in some kind of European Championships (the official ones started in 1963). The main rivals from the 1960 Olympics, Wald and Neckermann's consistent Hanoverian gelding Asbach, met there together with Absent again. To the pleasure of the big audience in Aachen Absent's performance, mainly in the piaffe- passage- tour, was even improved compared to Rome. But it couldn't go unnoticed that his neck was a little tight and his mouth not always quiet and closed throughout the entire test. The same could be said about the ride-off. Incomprehensibly to the spectators who clearly favoured Absent, Neckermann's Asbach won both times, even though the black Akhal Teke had captured their hearts by storm.
Absent's career lasted two more Olympic Games. In Tokyo 1964 he was a little bit past his peak, some said due to hard training sessions shortly before the competition. Anyway he was still good enough to win individual and team bronze.
After Sergej Filatov became a trainer the black national hero was given to the young talented Ivan Kalita, who had ridden Moar in Tokyo. Kalita formed a similar elegant picture with the stallion as Filatov had done all the years before. The new pair won team silver and just missed out on the individual bronze at the Mexico Olympics 1968 by only 18 points to Dr. Reiner Klimke on Dux. At 16-years of age and after nearly a decade of competition Absent, a seven times National Champion, was retired at the stud, where he once was born.
Until his death in February 1975 Absent sired over 70 offspring, nearly 50 of them purebred Akhal Tekes. Like their famous father many of them were very talented for dressage. Maybe his most well known one was the black Abakan, who looked like his father, but was taller. He was Elena Petushkova's horse after Pepel was retired. He competed with her at a young age in the 1978 World Championships in Goodwood in the Soviet team. Abakan, who had had the ability to become a second Absent, died much too early right before the 1980 Moscow Olympics.
Absent not only sired dressage talents, but also quality jumping horses like Ararat and Akin. His blood isn't forgotten today and flows in Akhal Tekes around the world.
Russian Grand Prix rider Inessa Poturaeva competes on a grandson of him, Amaretto.
Maybe Absent will never be equaled by another of his rare breed. His fame will live on and so does he in some works of art in the former Soviet Union. At his home stud a statue of him welcomes visitors and reminds them of their greatest horse ever.
By Silke Rottermann
Recommended Read: Hans Joachim Köhler, Kavalkade Band IX, Olympische Reiterspiele Rom 1960, Verden 1960 (in German; out of print)
Related Links
Video Clip: Absent in piaffe - Absent and other Akhal Tekes
www.achal-tekkiner.de (German breeding association, in German)
www.maakcenter.org (Russian breeding association, in English)