German Dressage News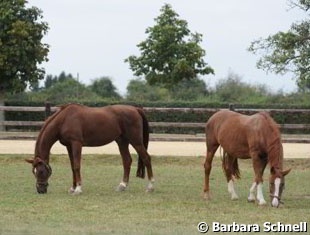 Isabell Werth's individual Olympic gold medal winning horse Gigolo FRH has passed away. The liver chestnut Hanoverian gelding was humanely put down yesterday September 23, 2009.
Gigolo's general health condition deteriorated rapidly following an injury and the veterinarian decided it was in Gigolo's best interest that he was euthanized.
"I'm so sad," Werth said. "Gigolo became 26 years old and he accompanied me for over 20 years. He was my friend, schoolkmaster and comrade. His reliability and willingness to work were two of his extraordinary traits. 26years old is a respectable age for a horse and I'm happy that I was able to give him a very nice retirement after his sport career."
Gigolo was bred by Horst Klussmann in 1983 and was by Graditz out of Bunett (by Busoni xx). He was acquired by Werth's initial sponsor and trainer Uwe Schulten-Baumer in 1989.
Gigolo is currently the most successful dressage horse of all times. Under Isabell Werth he also won Olympic gold at the 1996 Olympics in Atlanta and he claimed individual Olympic silver twice. He was double World Champion and four times European and German Champion.
His string of success started in 1991 when he won team and individual gold at the European Championships in Donaueschingen. He achieved more gold at the Europeans in 1993, 1995 and 1997. He won team and individual gold at the 1994 and 1998 World Equestrian Games and team gold. He won Olympic team gold in 1992, 1996 and 2000, individual gold in 1996 and individual silver in 1992 and 2000.
Gigolo was retired from competition at the Stuttgart German Masters on 24th October 2000 and he enjoyed his retirement at Isabell Werth's stable in Rheinberg.
"Gigolo spent his days in the field with his friend Fabienne," said Werth. "He was so decisive in my life and I can look back with great gratitude on our years together. I'm sure Gigolo won't be forgotten."
Related Links
Isabell Werth's 2003 Come Back
Gigolo Rejoined with Isabell Werth
Official Retirement of Gigolo
Bye Bye Gigolo, Germany's Greatest to Retire
Difficult Come back  for Nissan Gigolo FRH
Gigolo's coming back!
Isabell Werth wins first German trial for 1999 European Championships
Nissan Gigolo injured at 1999 CHIO Aachen
History of the European Championships