German Dressage News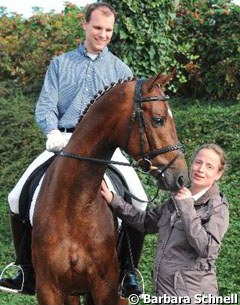 Even though the FEI has already suspended Isabell Werth for six months from all competitions, the German Equestrian Federation felt the need to back-lash and add another suspension on top of the FEI one, following the positive doping test of Werth's Prix St Georges horse Whisper on 30 May 2009.
The Committee of the German Olympic Sport Federation (DOSB), on assignment for the German FN, has suspended Werth from all team competitions for one year.
This decision entails that Isabell Werth can not ride on the German team at any team competition until 23 June 2010. Fortunately this is right in time for the 2010 CDIO Aachen on 9-18 July 2009, which serves as qualifiers for the German Team for the 2010 World Equestrian Games in Kentucky.
" The committee stressed the point that Mrs Werth's horse was not only doped but that the substance used according to the FEI tribunal may cause danger for the health of the horse. This recommendation by the DOSB is only active, when it is enforced by the FEI Tribunal," said Sönke Lauterbach, secretary-general of the German Equestrian Federation. "We have told to committee that we agree with the team suspension and that's what we are going to do."
The Stevens anti-doping committee stated that, "the pernicious effects of Fluphenazine as a human anti-psychotic medication that is not licensed for use in horses." The article entitled "Aderverse Extrapyramidal Effects in Horses Given Fluphenazine Decanoate", submitted by the FEI, documented the clinical findings of adverse reactions to be "restlessness, agitation, profuse sweating, hypermetria, aimless circling, intense pawing and striking the thoracic limbs, and rhythmic swinging of the head and neck alternating with episodes of sever stupor. [It] [...] can pose serious welfare risks to the Horse"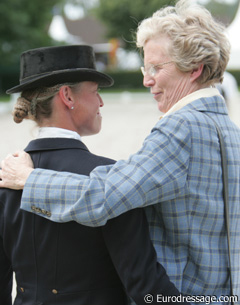 "It is clear that it is a disappointment for me not to be able to ride in the team. The German Federation truly has its own style [of dealing with things]," said Isabell Werth. "I believe that I can ride competitions again next year, even when I'm banned from the team. But what will happen with the World Equestrian Games, we'll have to see."
Werth's lawyer Ulf Walz was shocked. "This sentence is an absolute scandal. It has nothing to do with law," said Walz. "We were not informed about this decision and had to find out in the press."
Isabell Werth is seven months pregnant and due to give birth in November. The FEI suspension ends on 22 December 2009 though will most likely not return to the show ring that quickly after having given birth.
Photo copyrighted: Barbara Schnell
Related Links
FEI Tribunal Sentence: Isabell Werth Suspended for Six Months
Isabell Werth is Pregnant
Werth Opens Up in ZDF "Sport Studio Now"
Isabell Werth Remains Suspended After FEI Tribunal Hearing
Isabell Werth Releases Statement on Positive Doping Test
Werth's Sponsor Madeleine Winter-Schulze Reacts to Positive Doping Case
Isabell Werth Suspended - Whisper Tested Positive for Doping