2009 French Young Horse Championships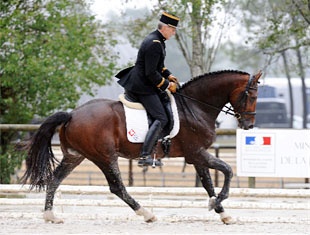 Rock'n Roll Star, Socrate de Hus and Wodan have won the 2009 French Championships for 4-, 5- and 6-year olds held during the big week of dressage ("La Grande Semaine de Dressage") at the French National Equestrian Academy in Saumur, France, September 18-20, 2009.
In the 4-year old division Academy rider Philippe Limousin topped the leader board with the bay Selle Francais bred Rock'n Roll Star (by Joeris out of Rozalinde (by Jazz)). The combination won both championship rounds to finish on a total of 194,867 points. Jessica Michel and the Hanoverian Lord de Hus (by Lauries Crusador xx x World Cup I) finished second in a distance with 191,133%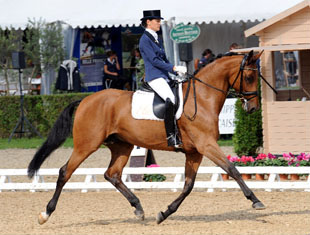 Michel, however, won the 5-year old division with the Oldenburg bred Socrate de Hus (by Stedinger x Trajan. Michel, who is head rider at millionaire Xavier Marie's Haras de Hus and who trains with German Hans-Heinrich Meyer zu Strohen, and her bay Socrate outclassed all competition and placed first with 189,510 well head of reserve champions Barbara Klinger and Pik Flower (by Florencio II x Steuben/T) on 182,310 points. Klinger is based by Francis Clément near Avignon.
Guillaume Recoing and Kryn de Wit's Dutch warmblood Wodan (by Gribaldi out of Lou Lou (by Pion)) claimed the title in the 6-year old division. The combination established an average of 77,97 points after two championship rounds. Last year Wodan was ridden by Jean Noel Michalysin. Sylvie Corellou and Lucien Nayrolles' Hanoverian Wakensho (by Wolkentanz I) chased Recoing to the end to finish in the reserve champions' position with a 77,460 point average.
This event co-incided with a CDI as well as the French Young Dressage Pony Chammpionships. The 4-year old young pony champion is Hesselteich's Desert Rose, a chestnut mare by Hesselteichs Golden Dream. Presented by Camille Boireau, this pony scored solid 7s with 76,00 points in the first round and 79,20 in the finals. Cynthia Bonzy rode Quinail Guillaumiere (by Linaro) to victory in the 5-year old pony division with scored of 74,80 and 74,60. Only five ponies were entered in the 6-year old class and Valerie Tissot took highest honours aboard Paddy de France (by Kantjes Admiraal), scoring 66,80 and 75,40.
Photos copyrighted: Les Garennes
Results
2009 French Young Horse Champions for 4-year olds
Rider - Horse - Round 1 score (coefficient of 0,4) -- Roud 2 (coeff. of 2) --- Total
1. Philippe Limousin - Rock N Roll Star - 8,22 -- 81,00 --- 194,867
2. Jessica Michel - Lord de Hus - 7,78 -- 80,000 --- 191,133
3. Guillaume Recoing - Ardante - 7,95 -- 77,600 --- 187,000
4. Laurence Albert - Ripley Fleuri - 7,70 --73,800 ---178,400
5. Alizee Roussel - Sinhus - 7,43 -- 74,200 --- 178,133
6. Inga Werner - Et Voila - 7,52 -- 73,600 --- 177,267
7. Marie Aude Heng - Angelo - 7,25 -- 74,000 --- 177,000
8. Aurelie Demiautte - Figaro de Hus - 7,20 -- 73,000 --- 174,800
9. Alizee Roussel - Sir de Hus - 7,32 -- 72,600 --- 174,467
10. Magdalena Pommier - Arezzo - 7,52 -- 72,000 --- 174,067
11. Natacha Micoud - Diabolo De Hus - 7,23 -- 72,200 --- 173,333
12. Arnaud Serre - Reality Pic - 7,52 -- 70,200 --- 170,467
13. Philippe Vallent - First Sensation - 7,50 -- 67,600 --- 165,200
14. Laetitia Isselin - Cybelle Ila - 7,13 -- 68,200 --- 164,933
15. Arnaud Serre - Wolkina Pic - 7,37 -- 66,200 --- 161,867
2009 French Young Horse Champions for 5-year olds
Rider - Horse - Round 1 score (coefficient of 0,3) -- Roud 2 (coeff. of 2) --- Total
1. Jessica Michel - Socrate de Hus - 8,37 -- 82,20 --- 189,510
2. Barbara Klinger - Pik Flower - 7,17 -- 80,40 --- 182,310
3. Jean Etienne Suisse de Sainte Clair - Chico's Boy - 7,95 -- 77,20 --- 178,250
4. Pierre Volla - Sadonik - 7,42 -- 76,60 --- 175,460
5. Philippe Limousin - Django - 7,60 -- 73,20 --- 169,200
6. Jean Francois Combecave - Junos - 7,37 -- 73,00 --- 168,110
7. Jean Paul Largy - Quick de Rouhet - 7,40 -- 71,80 --- 165,800
8. Agnes Toitot - Floyd - 7,43 -- 68,40 --- 159,090
9. Jean Pascal - Ekon van de Performing Stable - 7,40 -- 68,40 --- 159,000
10. Odile van Doorn - Qaline des Garmins - 7,45 -- 67,60 --- 157,550
11. Franck Aboab - Quarteto - 7,63 -- 67,20 --- 157,290
12. Sylvain Guasco - L'Air du Temps - 7,22 -- 67,60 --- 156,860
13. Philippe Limousin - Lou Heart - 7,52 -- 66,80 --- 156,160
14. Rachel Struel - Sandros Dancer - 7,13 -- 65,80 --- 152,990
2009 French Young Horse Champions for 6-year olds
Rider - Horse - Round 1 score gaits + presentation (coefficient of 0,2) -- Roud 2 (coeff. of 2) --- Total Percentage average
1. Guillaume Recoing - Wodan - 7,733 - 15,133 -- 7,820 --- 77,970
2. Sylvie Corellou - Wakensho - 7,833 -15,633 -- 7,740 --- 77,470
3. Franck David - Rossini - 7,300 - 14,900 -- 7,660 --- 76,409
4. Jef Coenegracht - La Festa - 7,900 - 15,000 -- 7,380 --- 73,909
5. Jean Paul Largy - Pluton DE - 7,000 - 14,300 -- 7,140 --- 71,409
6. Anne Marie Maire - Wandra B - 7,267 - 14,267 -- 6,980 --- 69,939
7. Genevieve Plet Lefevre - Donatello - 6,667 - 14,067 -- 6,900 --- 69,121
8. Patricia Noyer - Wiolita - 6,233 - 13,233 -- 6,700 --- 66,924
9. Alain Francois - Dinky Toy - 6,467 - 14,367 -- 6,580 --- 66,348
10. Alice Deleuze - Dazzling Gold vd Kempenhoeve - 6,633 - 14,633 -- 6,340 --- 64,288
11. Pascal Jean - Ehrendame - 6,833 - 14,133 -- 6,280 --- 63,515
12. Serge Cantin - Pirate de la Ferme - 6,133 - 14,233 -- 6,140 --- 62,288
Related Links
Jessica Michel, Triple French Champion with Prime Time, Noble Dream, Riwera
Prince de Hus, aka Prime Time, Severely Injured