2009 Belgian Young Horse Championships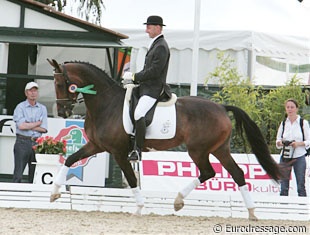 Roberto Cavalli, Zunora S and First Junior became the winners of the 2009 Belgian Young Horse Championships for 4, 5 and 6-year olds held in Moorsele, Belgium, on September 4-6, 2009.
In the 4-year old divisision Marjolein de Kort and the Hanoverian stallion Roberto Cavalli (by Rotspon x Metternich x Gambler's Cup xx) reigned supreme. The combination, which had also competed at the 2009 Hanoverian Young Horse Championships in Verden, was unbeatable in the two rounds on Saturday and Sunday and scored the highest overall mark of 85,05 points. Finishing in silver medal position in quite a distance were Peter de Boer and Floris van de Helle (by Fiderhit x Weltart). They received an overall of 80,00 points. The bronze went to Michelle Vettenburg aboard the KWPN bred Avanti (by Rubiquil x Jetset D) on 78,70 points.
Andre de Vlieger and Guy Staes' dark bay Dutch warmblood mare Zunora S (by San Remo x Symfonie) topped the leader board on Saturday and Sunday but had finished third in the Friday preliminary class. Their overall score of 83,57% was plenty to finish at the top and receive the gold medal. Natasja van den Bogaert and the Oldenburg branded Sandro Stern (by Sandro Hit x Feiner Stern) claimed silver with 81,57%, while young rider Brecht d'Hoore and the Oldenburg stallion Ariane's Floretto (by Floresan x De Niro) landed third place with a minimal point difference of 81,07%.
Eventing rider and occasional dressage rider Nick van Laer was the one to beat with his two horses in the 6-year old division. Aboard the Hanoverian stallion First Junior (by Furst Heinrich x Landadel) he captured the overall champion's title with a total of 79,500%. Only a few points behind him were silver medallists Bjorn Vileyn on the Belgian warmblood bred Delano H (by Munchhausen x Wendekreis). Van Laer also got the bronze with the Holsteiner stallion Dayano (by Dolany x Linaro) on 78,700%
Results
4-year old Dressage Horses - Finals Test
Scores Saturday - Sunday - Overall
1. Marjolein de Kort - Roberto Cavalli - 84,30 - 85,80 -- 85,05
2. Peter de Boer - Floris van de Helle - 78,60 - 81,40 -- 80,00
3. Michelle Vettenburg - Avanti - 80,00 - 77,40 -- 78,70
4. Stefan van Ingelgem - APG Ferragano - 79,30 - 78,00 -- 78,65
5. Benedicte Renson - Destiny - 77,60 - 78,60 -- 78,10
6. Kara Bosman - Fabelle - 79,00 - 76,90 -- 77,95
7. Kara Bosmann - Reine d'Or - 74,80 - 78,40 -- 76,60
8. Marjolein de Kort - Floresandro - 77,60 - 75,40 -- 76,50
9. Nick van Laer - Don Matcho - 78,00 - 73,80 -- 75,90
10. Larissa Pauluis - Don Massimo - 82,30
5-year old Dressage Horses 
Scores Friday - Saturday - Sunday - Overall
1. Andre de Vlieger - Zunora - 78,700% - 84,20% - 87,80% -- 83,57%
2. Natasja van den Bogaert - Sandro Stern - 79,100% - 84%- 81,60% -- 81,57%
3. Brecht d'Hoore - Ariane's Floretto - 78,800% - 83,20% - 81,20% -- 81,07%
4. Tom Heylen - Highlight - 81,700% - 76,40% - 76,00% -- 78,03%
5. Dominique Mohimont - Belafonte - 74,000% - 77,80% - 82,20% -- 78,00%
6. Stefan Hollanders - Bonheur - 76,700% - 78,40% - 78,20% -- 77,77%
7. Leslie Goethals - Del Rubino - 79,500% - 74% - 76,80% -- 76,77%
8. Brecht D'Hoore - Ebiona van de Sprinkel - 69,500% - 76,40% - 77,80% -- 74,57%
9. Steven van Bambost - Zedor - 69,400% - 69,40% - 75,00% -- 71,27%
10. Dominique Mohimont - Zephyr - 76,700% - 77,40% - 51,37%
Celine Anciaux - TH First - 67,700% - 67,20% - 44,97%
Aina Vandermeeren - Ufo du Fayard - 64,600% - 64,60% - 43,07%
6-year old Dressage Horses 
Scores Friday - Saturday - Sunday - Overall
1. Nick van Laer - First Junior - 81,500% - 75,000% - 82,00% -- 79,500%
2. Bjorn Vileyn - Delano H - 79,300% - 78,900% - 78,80% -- 79,000%
3. Nick van Laer - Dayano - 79,700% - 81,80% - 74,60% -- 78,700%
4. Stefanie Vantieghem - Winstar Sinclair - 81,800% - 71,800% - 79,40% -- 77,667%
5. Stefan van Ingelgem - Whisper Gold - 77,700% - 75,40% - 78,00% -- 77,033%
6. Sophie van Lent - Hatchoum - 75,400% - 74,800% - 77,40% -- 75,867%
7. Cindy Schuurmans - Dabanos - 73,900% - 77,30% - 75,80% -- 75,667%
8. Peter de Boer - Dabanos D'Os - 71,500% - 76% - 76,20% -- 74,567%
9. Kelly De Belder - Duchesse - 67,400% - 71% - 77,60% -- 72,000%
Julie van Olst - No Problem - 80,100% - 72,80%
Amandine Prevost - Louvain Ewaldress - 67,100% - 65,200%
Related Links
Belgian Selectors Choose to Send Quality to the 2005 World Championships in Verden
Sentio, Sentio, Rockefeller and Quavarotti win 1999 Young Dressage Horse Circuit
Weltmann, Saros van het Gestelhof and Rosantica 2000 Belgian Young Horse Champions