American Dressage News
Olympic dressage rider Dr. Cesar Parra has obtained the ride on a new horse, Grandioso. The dark bay Westfalian gelding was sold by its owner and trainer Jason Canton.Grandioso is by Grosso Z out of Popocateptal (by Palisandergrund) and is bred in Germany by Willi Hillebrecht.
"I am very excited about this new partnership and have very high expectations for our future together," Dr. Parra told Eurodressage. "He is an amazing horse and I feel very blessed to have the opportunity to work with him. I am sure that he will be a wonderful addition to the Team.  A very special thanks goes to the Davis Family for making this possible."
Jason Canton and Grandioso made big headlines in the United States as they won the 2007 American Young Dressage Horse Championships as a 6-year old and finished third in the 2009 U.S. Developing Horse Championships. Canton, who is based in Alpharetta, Georgia, discovered him in Germany as a 5-year old and trained him up the levels. The dark bay gelding is now schooling Grand Prix.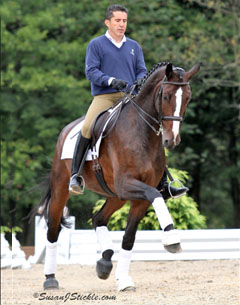 Shortly after the Developing Horse Championships, Canton suffered a stroke in October 2008 from which he recovered well. "Two years ago I was able to fully recover from a stroke as well," Dr Parra explained.
"I felt an immediate connection with Jason because of what we have both been through. Sometimes fate is a major player in our lives. I feel very blessed that I have recovered and am able to compete 100% in a sport that I love. "
Dr. Parra recently obtained U.S citizenship and aims to represent the United States at the 2012 Olympic Games in London. "I really was on the hunt for a horse that could help me to represent my new country in the Olympics. I searched all over Europe seeing many super horses. But understanding where Jason was coming from and the power of Grandioso I really believe this horse and I together will make the United States proud of us."
Photos copyrighted: Susan J Stickle
Related Links
Cabana Boy and Grandioso are 2007 Markel U.S Young Horse Dressage Champions
Dr. Cesar Parra Sworn in as U.S. Citizen
Dr. Cesar Parra Recovering Well
A Fresh Start for Dr. Cesar Parra with New Horses