2009 Global Dressage Forum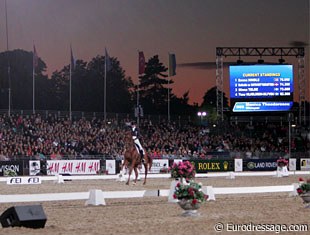 New initiatives in dressage will be discussed at the 2009 Global Dressage Forum on 26 and 27 October 2009 in Hooge Mierde, the Netherlands. At the European Championships in Windsor the FEI Task Force announced some interesting new developments that will be proposed to the General Assemblee this year. Some of the developments include changes in the system of judging.
An interesting try-out meeting will take place next week in Aachen. Different judging systems will be brought into practice. Judging with 7 judges, highest and lowest points taken away, different judging tasks for different judges, etc.
At the Global Dressage Forum FEI Dressage task force chairman Frank Kemperman and FEI sports director David Holmes will be present. Several experts will give presentations, including scientist David Stickland, who will present his statistical analysis of the judging in Windsor and FEI judge Katharine Wüst, who has made a proposal on a more objective way to define the degree of difficulty of a kür.
Don't miss out on this year's exciting Global Dressage Forum. For more information about the program and ordering tickets visit: www.globaldressageforum.com
Back to the 2009 Global Dressage Forum index