2009 Dutch Pony Championships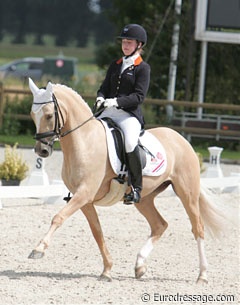 In The Netherlands there are annually two national pony championships. The indoor championship in winter and the outdoor championships held at the Hippiade in Ermelo, The Netherlands, in the summer. Antoinette te Riele won the 2009 Dutch Outdoor Pony Championships last weekend with her ECH gold medal winning mare Golden Girl.
The group of riders for the qualification round was split into two. Van den Dungen won the qualification round in ring 1 with De Havikerwaard's German bred pony stallion Rembrandt. She scored 68.90% to beat Julia van Schaijk on Den Ostriks Dailan. In ring 2, Antoinette te Riele topped the leaderboard with 73.80%, while Dana van Lierop and her second pony Wengelo's Ricardo finished second.
The ten highest scoring riders made it to the big finals. Antoinette te Riele won those convincingly with a 73,90% earning test. Julia van Schaijk became reserve champion with 71.80%.
Te Riele was also the double individual gold medallist at the European Pony Championships in Moorsele, Belgium, one month ago and was the favourite for the Dutch title.
"I didn't really think of that," said the 15-year old. "Goldy was on form and I thought: I'm just going to ride and we'll see what comes of it. I never thought it would be easy to become Dutch champion."
Results
Qualification Round - Ring 1
1. Maria van den Dungen - Rembrandt - 68.90%
2. Julia van Schaijk - Den Ostriks Dailan - - 67.10%
3. Suzanne van de Ven - Majos Cannon - 66.10%
4. Justine Mudde - Wonderboy - 65.30%
5. Sanne Gilbers - Harry Potter - 63.50%
6. Marjan Hooge - Mr. Matcho - 63.10%
7. Ashley Langevoort - Igor - 62.70%
8. Amy van Dijk - Neptune van de Be - 62.60%
9. Puck Slaats - Ti Sento - 61.50%
10. Debbie Woutersen - Twister - 60.30%
11. Daphne Hennink - Amaretto - 60.30%
12. Danielle van Bergen - Oldebert's Kimberly - 59.90%
13. Bo Kragtwijk - Lasco - 59.40%
14. Tatjana Mulder - Leliebelle - 58.50%
15. Renske Spanjers - Willeke - 58.20%
16. Jolien van Kollenbur - Sil - 57.90%
17. Nina Strous - Vincent - 57.50%
18. Kim Derks - Luna S - 56.80%
19. Kenna Bakker - Rubicon - 56.20%
20. Jeanine Nieuwenhuis - Tdn's Renaldo - 55.40%
Qualification Round - Ring 2
1. Antoinette te Riele - Golden Girl - 73.80%
2. Dana van Lierop - Wengelo's Ricardo - 68.30%
3. Stefanie Verkooijen - Keulse Hoeve's Zico - 67.70%
4. Chiara Prijs - Mastwood Blackberry - 66.00%
5. Klinte de Rijck - Omira - 64.80%
6. Christien Kerbert - Cinderella du Bois - 64.60%
7. Michelle de Jonge - Sandokan - 64.30%
8. Jasmijn Linthorst - Wester Aikema's Adios - 64.10%
9. Romy Bemelmans - Vinkenhove Lester - 63.40%
10. Laila Smits - Oosteind's Rocco - 62.80%
11. Nikita Raijmakers - Rietheim's Hilbert - 61.30%
12. Janey Vermunt - Prins Melride V - 61.00%
13. Mandy van den Hoek - Leslie - 60.90%
14. Merel Hooijer - New danger - 60.20%
15. Marije Verbeek- Lady Elegance - 59.00%
16. Sanne van Gelder - Nicolai - 57.30%
17. Bart Lips - Spartacus - 56.70%
18. Sophia Sleeman - Movie Star - 55.60%
Finals
1. Antoinette te Riele - Golden Girl - 73.90%
2. Julia van Schaik - Den Ostriks Dailan - 71.80%
3. Maria van den Dungen - Rembrandt - 70.20%
4. Dana van Lierop - Wengelo's Ricardo - 68.30%
5. Suzanne van de Ven - Majos Cannon - 67.00%
6. Klinte de Rijck - Omira - 65.20%
7. Justine Mudde - Wonderboy - 64.30%
8. Chiara Prijs - Mastwood Blackberry - 62.90%
9. Stefanie Verkooijen - Keulse Hoeve's Zico - 61.80%
10. Sanne Gilbers - Harry Potter - 61.40%
Related Links
Te Riele and Danny Boy B Win 2008 Dutch Outdoor Pony Championships
Angela Krooswijk, 2007 Dutch Pony Champion
Michelle van Lanen, 2006 Dutch Pony Champion