2009 European Dressage Championships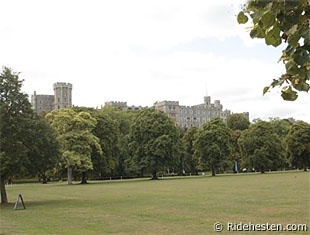 I had stayed the night in London with my friend, who offered to drive me to Windsor. We got up at 7 AM to turn out his best horse (power). He has the most amazing convertible there is on the market at the moment, so we drove an old worn-down Golf to a garage where he had his new car parked. We cruised through London city, past Regent's park, to Piccadilly circus, Trafalgar Square, etc while there was hardly any traffic on the street. It was a glorious sunny morning and an amazing feeling to have my hair blowing in the wind (leading to instant dreadlocks), sitting in the greatest car, driving through one of the most exciting cities in the world.
With the dressage Kur Finale scheduled for the evening it would be a very relaxed day today. I was totally caught up with work and could actually take the time to visit a trade fair for the first time at a show this year! I liked a Veuve Cliquot orange polo shirt but the salesman offered it for sale for 100£ I just couldn't shut up and told him it was outrageous. I said hi to my friends at the Westfalian verband booth and chatted with a Polish family whose daughter does FEI pony dressage and trains in Belgium. I was able to sneak into the VIP section for this quick chat and it looked lovely there. But I was the workhorse for the week, so now VIP treatment at this show :)
Round 6 PM the entire Windsor show ground was packed with people. The sun was still shining, even though it wasn't hot, and most people were just sitting on the lawn watching recorded dressage rides on the big screen while eating fish and chips or a burger.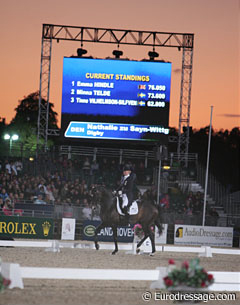 The Kur started at 7.45 PM and it was destined to be magical. With the sun dropping behind the Windsor castle, the light produced the most amazing photos for a while with the sky peach-coloured as if on fire.
The evening was magic with Edward riding a new World Record and the Dutch filling up the podium. It left so many impressions on everyone. After the class it had cooled down so much that we were actually freezing our butts off outside but also in the press centre. My fingers were ice cold and I could hardly type a story at the unbearable press centre. Dirk Caremans is even playing Christmas carols on his Apple computer. That says enough!!
I blew that popsicle band round midnight to have one final glass of rose wine with Dirk and Ken in the hotel lobby before flying home on Sunday. What a wonderful week!
Back to the 2009 European Dressage Championship index