2009 European Dressage Championships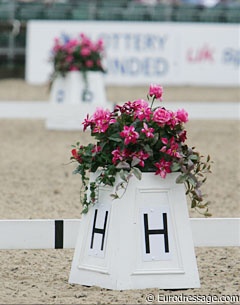 An early morning again today as Dirk Caremans had to leave early to photograph the nations' cup in show jumping. For the first time in history, the European Dressage and Show Jumping Championships have been combined at one event but for some reason the show jumpers don't seem to stand out here at the competition. Dressage has taken centre stage by being featured throughout the day, while the first jumper classes were pushed back to the evening program. The reason could also very well be that show jumping interests me very little and I admit I hardly pay attention to it.
I had decided to spend the day in London as dressage was on a break on Friday. Only the jumping team competition took place and I had all the time to go and explore the city. Because I hadn't finished my story last night, I had planned on wrapping it up Friday morning and catch the train in Windsor by noon. Oh no! The GP Special article turned out to be so long -- something over which I don't seem to have control -- and I decided to add 52 photos to illustrate it (Am I completely mad? Try finding a magazine where you get more than 10 photos on the entire Championship).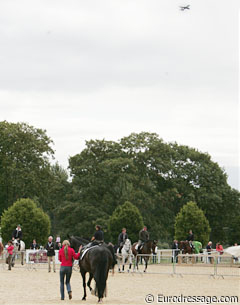 Only by 15h I had finished my job, packed up the computer and walked through Queen Elizabeth's garden (it's a park) towards the station. With airplanes constantly taking off and flying over Windsor, I keep looking at the sky. I've been doing so the entire week as I'm eager to spot that unique monster airplane, the A380, which flies to Asia out of Heathrow. Four days have passed and I still haven't seen it (though Australian photographer Roger Fitzhardinge told me that he saw a Singapore airlines one in the air on Saturday morning).
The train ride took exactly one hour and dropped me off at Waterloo central station. I'm quite familiar in London as I have worked four weekends at the British Library two years ago to do PhD research. London is just the most exciting city and a shopping valhalla. Most girls are interested in fashion and I love it too, but only when I'm in the right mood (which seems to be a seasonal thing). However, London instantly triggers that mood and as I walked into my first favourite shop, Ted Baker, I just couldn't control my excitement and ended up trying on seven pieces of clothes. One I loved and bought and for one silk piece I had to ask a shop assistant to help me take it off as my arms were stuck in it (how embarrassing is that!). The rest just didn't suit me.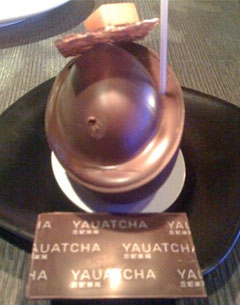 I had arranged a meeting with a dear friend of mine by 7 PM so right before that time I went into another clothes' shop, exchanged by worn down Nike sneakers which I wore at the show for black patent leather high heels. I sort of looked ready to take London by night. We walked to Soho and had a few drinks in a cute little Spanish bar which was so tiny that it didn't even have a loo. We then challenged ourselves into getting a table at the "ubercool" it-restaurant of the moment: Yauatscha. This dim sum place has the greatest interior and I've been told hardly impossible to get in on the weekend without a reservation. Some very assertive behaviour and some convincing brought us to a table-for-two within five minutes.
This lovely, relaxed evening ended with a delicious mango-filled chocolate ice cream with one candle on as a pre-birthday celebration. What a super relaxed day in London!
Back to the 2009 European Dressage Championship index