2009 European Dressage Championships
Note to myself: Don't decide to go for a drink in the hotel bar until 2.30 AM after a long day's work. After we had returned from the show to the hotel in Slough round 1 AM, Dirk Caremans, Ken Braddick and I decided that a bottle of rose wine would be fun. It was but am exhausted now.
I woke up this morning after a great night's sleep, looked outside and thought: "another day in yukville!" The weather is horrible here. It's cold, moist, totally overcast and it feels like autumn. I call home and get the message that it's sunny and 26°C at home. Dang! I thought the weather would be nice hear too so I brought skirts, flip flops and sandals. Now I'm stuck wearing my only pair of white sneakers for the entire week :) Next time remind me to bring my leather winter boots to England!
While driving to the show we passed Coby van Baalen who was doing her daily morning jog. Back at the show ground I needed some heavy-duty tea to get me started (I dislike coffee). Edward Gal just finished schooling Totilas, which attracted an early morning crowd.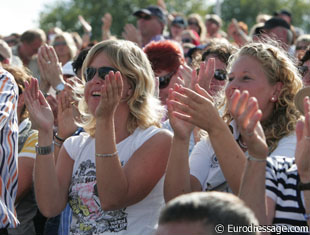 It was straight to shooting duty. Thirty-horses today for the Grand Prix Special. Excitement slowly built up and the afternoon session with the final fifteen riders was simply nail-biting. How good can a competition be if you see riders such as Anky, Victoria, Matthias Alexander, Edward, Laura and Adelinde come in the ring one after the other. By the time Laura was riding I almost forgot to shoot photos. I couldn't stop looking at the scoreboard to see if a rider was either beating the current lead percentage or not. Secretly you were thinking "stay above it", "stay above it" while your stomach was turning from excitement and your heart rate beating so fast it was about to explode out of your body. What a thrilling competition.
I couldn't help but wonder that the concept "top horse" has to be redefined now. In the presence of such great horses as Totilas, Parzival and Mistral any other 72% scoring horse, for instance, looks "normal". To what has the dressage world come?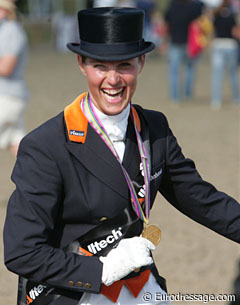 Seeing Adelinde's pure joy and surprise on her face was heart warming. Edward, Laura and Adelinde have stepped through star gate and entered a new era in dressage. These young talents have abdicated the old heroes and legends, who are now trying hard to catch up with them but a new league has arrived.. For some reason the words "Le Beaujolais Nouveau est arrivé" rings through my head.
At the press conference a Dutch journalist tried to generate credit for the "Dutch school" as initiators and innovators of dressage. Somehow I was wondering to what extent this new trend has anything to do with "Dutch school," or the Dutch way of training. In my mind it is breeding that matters here and even more so getting the right horses in the right hands at the right time. How Dutch is Totilas with 50% of his genes being German (his sire is Trakehner Gribaldi). What about Parzival who has thoroughbred and Westfalian blood on the dam side through Ulft and Roemer? How Dutch is Laura Bechtolsheimer who has been trained in the most classical way imaginable.. And even Adelinde is not truly "Dutch school" as she is from the rural town Beilen in Drenthe and never got truly exposed to the notorious Dutch training system.
On the other hand, Germany is the biggest breeding country in the world, so how come they don't have any strong B and C team? There should be high quality horses plentiful. What happened there? One has to question that for sure. Also, Adelinde does credit the professional support the Dutch Equestrian Federation has provided her since she's been an A-team member. She confirmed that the training camps have helped her go from 70% to 80%.
The uniqueness of the performances and history being made at the 2009 European Dressage Championships are definitely food for thought.
After the press conference I started working on my article on the Grand Prix Special test. The problem is I always want to say too much, tell too much what happened, how everyone reacted, etc. It took all evening and I wasn't even barely finished by 21.30h.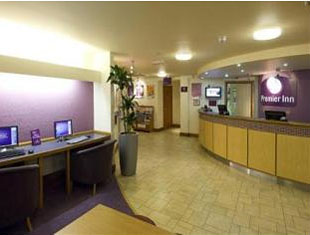 I called it a day and with Dirk and Ken we went to the dinner party which was hosted by the British Equestrian Writers' Association in the chill out zone. We got served marinated chicken with jacket potatoes and a salad. Good food after a long day's work.
We arrived back at the hotel at 11 PM and this time I was wise to go straight to bed. I did have a strange visitor knocking on my door in the middle of the night. When I went outside to look, there was no one there. Was I sleepwalking?
Back to the 2009 European Dressage Championship index