2009 European Dressage Championships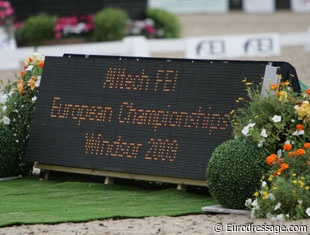 Once more an early wake up call at 4.40 AM. The European Dressage Championships, the final "big" show of the year, are set to begin today in Windsor, Great Britain.
I went to bed much too late at 1.30 AM still feeling the need to flip channels and watch the Australian Animal Rescue program on tv instead of getting that much needed sleep before a show. I did get up on time because, as usual, I felt nervous about missing my flight. I only booked the plane ticket yesterday and of course paid too much for it. The flight from Brussels, however, was great: super British Airways' service and only 1 hour in the air. I was happy about my wise decision not to go on Monday and not to drive myself. The driving on the left side of the road scares me a bit too much.
A stressed taxi driver drove me 5 miles to my hotel and then 5 miles to the show grounds and charged me the outrageous fee of 50 GBP for it, which I paid with a smile while grinding my teeth. Rip off.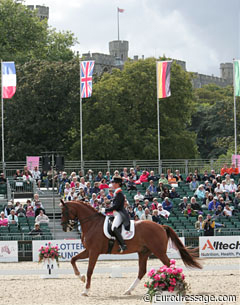 There is a constant stream of airplanes taking off from Heathrow airport and massive jumbo's fly over the ring though they don't scare the horses. For plane spotters this is a dream come true, but I haven't seen the much anticipated A380 yet.
The weather at the show is strange. It was chilly and overcast this morning, but the sun peeped through the clouds round 11 AM in the middle of the morning session class and it was almost getting hot. I hoped that the show ring would be in Queen Elizabeth's garden with the Windsor Castle as picturesque backdrop, but the only bits of castle to be seen from the show ring are the turrets popping up behind the trees (the photo might look more impressive than it really is). What a pity.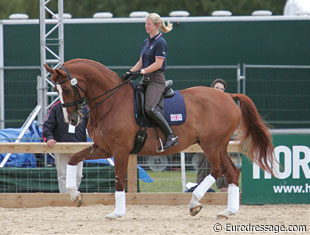 You can spot DQ celebrities all day here as famous riders and trainers gather round the warm up ring for the schooling sessions and test preparations.
There is a noon break now and Imke Schellekens has taken the provisional lead now. Our article with an analysis of the class will come later this afternoon.
Cheers
Back to the 2009 European Dressage Championship index