2009 U.S. Young Horse Championships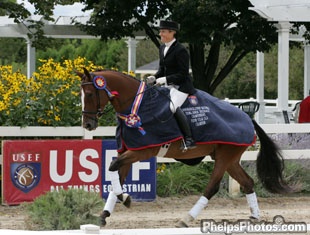 Aesthere, Selten HW and Pikko del Cerro HU took highest honours and claimed the U.S. Young Horse Championship title at Dressage at Lamplight in Wayne, ILL, August 21 - 23, 2009.
Karen Monks-Reilly and"Aesthete" ranked first in the nation coming into the Four-year old Championship, trotted away with the title and a score of 8.68. "My ride today was all I hoped it could be," said Monks-Reilly of Kennett Square, PA. "It was energetic and supple, and this horse is so sensible." 

Monks-Reilly, who has an eventing background, rides foxhunters for owner Betsy Spence of Unionville, PA, and they found Aesthete (a bay Dutch Warmblood gelding, Trento B – Unusual by Gribaldi, bred in the Netherlands by brothers Van Der Steen) in Europe when he was only two weeks under saddle, but it was love at first sight for Monks-Reilly. 

"Now we do lots of hacking and cross-training, and he offers FEI movements, but it's all in fun at this point and dressage doesn't seem like work for him," she said. "We'll head to Devon next and hope to come back for the five-year-old division next year."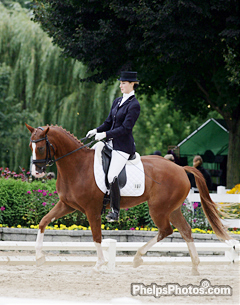 A close score of 8.64 earned the Reserve Championship Four-Year-Old trophy for Caroline Roffman riding her own flashy chestnut Hanoverian gelding "Bon Chance"(Belissimo M – Wintersong by Weltmeyer, bred in Germany by Marefield Meadows, Inc.). 

"He has a 'look at me' attitude, but even though he was a little intimidated by the championship atmosphere, he stayed with me," said Roffman, who is coming off a successful performance at the NAJYRC last month. "This is my first time riding in these Markel/USEF National Young Horse Dressage Championships, and this competition at Lamplight is the best show I've ever been to. I love this program and appreciate that this gives horses the experience they need to go on in their performance career." 

Roffman reported that Bon Chance will return to Florida for a well-deserved vacation with plenty of time "to be a young horse" before taking on the five-year-old classes next spring.

The highest-placed U.S.-bred honor for the four-year-old division went to "Sabati", a dark bay Oldenburg gelding (Sandro Hit – Rosalea by Rubinstein), bred and owned by Nancy Holowesko of Trappe, Maryland. Sabati was ridden to a third place overall finish by Ulla Petersen with a score of 8.38.
Selten HW Takes Five-year Old Title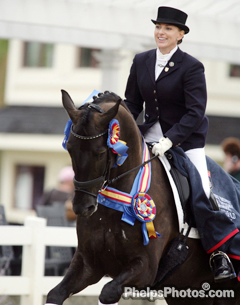 A highlight of the Markel/USEF Young Horse Dressage Program is to encourage young horses as they progress through the age divisions year after year, and last year's National Champion Four-Year-Old "Selten HW" let no one down as he once again claimed Championship honors with a Final Test score of 8.68 and overall championship score of 8.52. 

"I am so pleased with our ride," said owner and rider Elizabeth Ball of Carlsbad, California. "This is an incredible venue and atmosphere, and despite changing weather and some wet footing, my horse got better every day. He really came into his own and rose to the occasion." 

Ball has owned this striking black U.S.-bred Hanoverian (Sandro Hit – High Princess by Hohenstein, bred in the United States by Irene Hoeflich-Wiederhold of Florida) for several years but only brought him to California and began riding him in June. 

"After I bought him I left him at Hilltop Farm in Maryland until June 1st of this year," explained Ball. "Michael Bragdell (who rode the gelding to the 2008 National Championship for Ball) did a fantastic job bringing him along."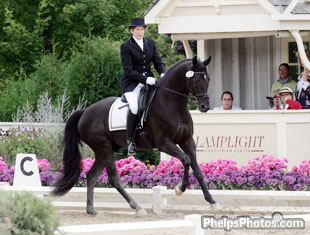 Despite her horse being "a little tired" and an unfortunate distraction when entering the ring, Louise Koch and her own black Westfalen stallion "San Shivago"rose to the challenge of the FEI Five-Year-Old Final Test and earned the Reserve Championship with an overall score of 8.284. 

"This is a horse everyone would dream to have," says Koch, who traveled with San Shivago across the country from Westlake Village, California. "I am 62 years old, and he has given me a second chance to continue my riding career in the exciting young horse divisions. This program provides so much exposure for these youngsters and provides a tremendous opportunity for us as riders to learn much more about our horses as they develop from one level to the next." 

An approved Westfalen and Oldenburg stallion, San Shivago (Sandro Hit – Donna by Donnerhall, bred in Germany by Walter Huning) will have limited breeding but "our focus is riding," said Koch. "For now, we have a long drive home, but we will take some time off and then continue to build his training towards the six-year-old division next year."

Finishing third both in today's class and overall in the Five-Year-Old division with a score of 8.016 was "Zatino H", a bay Dutch Warmblood gelding (Sir Sinclair – Karma by Equador, bred in the Netherlands by J.A. de Haas) ridden and owned by Emily Gershberg of Hudson, New York.
Pikko del Cerro HU Becomes 6-year old Champion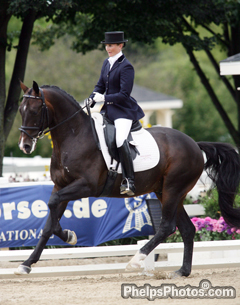 In the Six-Year-Old division, U.S.-bred"Pikko del Cerro HU" made America proud by claiming the Markel/USEF National Championship with an overall score of 7.9. Ridden by Mikala Munter Gundersen of Wellington, Florida for Horses Unlimited, Inc. of New Mexico, the imposing dark bay Hanoverian stallion (Pik L – Rohweena by Rohdiamant) put in a consistent test to place third in today's Final Test, enough for the overall title. 

"We had a great warm-up, but he was a little disrupted by the applause for the horse finishing their round before us," said Gundersen. "He took a little while to settle in the test but I loved our canter work and he has a great walk. He's such a talented horse, it all comes easy for him." 

Pikko del Cerro HU's next stop will be Devon, then back to Florida to pursue the FEI levels. Despite the long drive to Chicago, Gundersen can't wait to come back to Lamplight and bring more young horses through the program. 

"This is a wonderful facility, the footing held up, and everyone here has been so helpful and such a pleasure to work with," said Gundersen.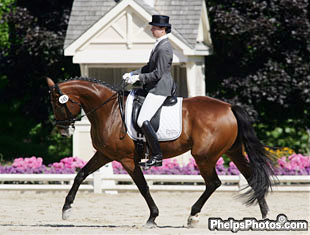 Several young horses put in tremendous performances today as they tackled the FEI Six-Year-Old Final Test, and as a result moved up in the overall rankings. One of these rising stars was"Faberge", ridden by Maryland's Jessica Jo Tate for owner Elizabeth Guarisco of Middleburg, Virginia. After Friday's fifth-place finish in the Preliminary Test, a strong second in today's test was enough to propel Faberge in to the overall Reserve Championship spot. 

"Everything came together today and he just lit up in the ring in a positive way," said Tate. "He's not the biggest mover in the world, but his rideability is outstanding. He was so with me today, easy and supple; I couldn't have asked for more."

Tate has only had the mount since April after finding the bay Westfalen gelding (Florestan – Baroness by Brentano II, bred in Germany by Eva-Maria and Hubertus ZG Hoff) in Europe for Guarisco.

"We had been looking for a schoolmaster, but his temperament was so fantastic that we brought him home, and decided to take him in the young horse division for show ring experience," said Tate. 

Tate will next take Faberge to Devon and Region 1 championships before heading south to Florida for the winter season. As for moving on to the Developing Horse ranks next year, Tate says, "He has such a great attitude and is willing to do it all, he just needs strength. He'll tell me when he's ready."

Winning today's Final Test with a score of 8.08 for an overall third-place finish with 7.664 was "Winsor", a dark bay Dutch Warmblood stallion (San Remo – Para Lady by Julio Mariner, bred in the Netherlands by P.P.W. Janssen) with owner/rider Nicole Bellah of Missouri. This pair was last year's 2008 Markel/USEF National Champions in the Five-Year-Old division.
More coverage on this event on Dressagedaily.com
Text source: USEF
Related Links
Scores 2009 U.S. Young Horse Championships
Cabana Boy Wins 2009 U.S. Developing Horse Championship
Qualificants for 2009 U.S. Developing Horse Championship
Previous Winners
Selten HW, Winsor and Cabana Boy Win 2008 U.S. Young Horse Championships
Cabana Boy and Grandioso are 2007 Markel U.S Young Horse Dressage Champions
Currency DC and Sir Sinclair Win at 2005 USEF/Markel Young Horse Dressage National Championships
Royal Prince and Revolution win 2004 American Young Horse Championships