2009 European Dressage Championships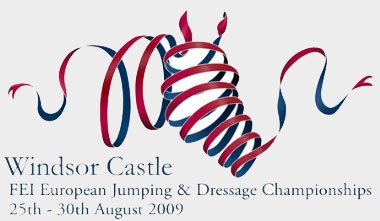 A week ahead of the 2009 European Dressage Championships at Windsor Castle, Great Britain, it seems the Dutch are firm favourites to take team and individual gold. At Torino in Italy in 2007 they broke the spell that had provided Germany with absolute dominance of the team title over the previous 42 years, and the biggest problem Dutch Chef d'Equipe, Sjef Janssen, has faced this summer has been deciding which of his sparkling choice of riders to leave out of his side. It's a challenge a lot of the other national selectors would have liked to have been facing - particularly Germany's team coach Holger Schmezer.
Schmezer has named Mattias Alexander Rath with Sterntaler and Susanne Lebek with Potomac along with double European team gold medallist Monica Theodorescu with Whisper.  However the final German team member, Ellen Schulten-Baumer, took a nasty fall earlier this month and badly bruised her neck.  For some time it was unclear whether she would be fit enough to compete with her top ride Donatha S, but to everyone's relief it was confirmed a few days ago that she has made an excellent recovery so the side is now complete. 
DISTINGUISHED CONNECTION
The name of Schulten-Baumer has a long and distinguished connection with German dressage at its very best, as Ellen's step-father, Uwe Schulten-Baumer is the legendary first trainer of Isabell Werth. His son Uwe Junior won five team and one individual European gold medals during his own spectacular career and Ellen has already picked up European team silver as a member of the 2007 German side in which she was joined by Theodorescu.  This will be one of the youngest dressage teams fielded by Germany - Rath is 25 and Schulten-Baumer is 30 but Theodorescu, who is also a highly-popular trainer, provides the essential element of maturity at 46 years of age.
When it comes to form this year, however, it's all about the Dutch, and team manager Janssen has been spoilt for choice.  His wife, multiple Olympic champion and Freestyle queen, Anky Van Grunsven, lines out with Salinero along with Imke Schellekens Bartels with Sunrise and Adelinde Cornelissen with Parzival.  Cornelissen suffered a major disappointment when Parzival was unsound on arrival at the Rolex FEI World Cup™ Dressage Final in Las Vegas in April.   But fears that a ligament injury would prove long-term were unfounded, so the horse and rider who took the 2008/2009 World Cup series by storm when they followed their winning debut at Stockholm with two further victories will get another opportunity to shine. 
LATEST SENSATION
It may be difficult for them to outshine the latest sensation in the sport of international dressage however - the extraordinary partnership of Edward Gal and Moorland's Totilas who earned a new world record Freestyle score at Hickstead in July.   If Janssen needed any affirmation of the ability of this dynamic duo then he got it, and more, when, after scoring 79.345% in the Grand Prix at the British fixture, Gal and Totilas then blew the rest away with mark of 89.400% in the Freestyle.  They even scooped a mark of 96% for artistic merit from British judge Isabel Wessels, and a standing ovation from the emotional crowd who could hardly believe what they had witnessed.  The nine year old black stallion is proving a huge draw for spectators who cannot wait to see him perform again on British soil next week.
Of course the home supporters have plenty to cheer on with their own strong side that includes Laura Bechtolsheimer with Mistral Hojris, Maria Eilberg with Two Sox, Carl Hester with Liebling and Emma Hindle riding Lancet.  British team captain, Richard Davison, says he has a medal clearly in his sights - Bechtolsheimer and Hindle were both members of the team that finished fifth in Torino in 2007 and again at the Olympic Games in Hong Kong last summer so it seems like a realistic target.
TEAMS
A total of 13 nations will be represented by teams including Sweden, which claimed bronze in 2007, Austria, Belgium, Denmark, Spain, France, Great Britain, Germany, Italy, The Netherlands, Poland, Portugal and The Ukraine.  In all there will be horses and riders from 19 countries, six of which are sending individual riders including Belarus, Finland, Ireland, Latvia, Russia and Switzerland.
When it comes to crowd-pleasers it may be hard to steal the limelight away from super-stars like Gal and Totilas , but one horse and rider combination that holds a special place for dressage followers is Russia's Alexandra Korelova and the former circus-horse Belagur.  The 19 year old grey stallion, who so nobly flies the flag for the breeding tradition of the Orlov Trotter, belied his age when earning two perfect 10's for his piaffe at Aachen this summer, and The Prince of Piaffe is one of the two individual Russian entries for next week's championships.
FACTS AND FIGURES
Germany has won the European Dressage Team Title on 21 occasions.
The first official Championship took place in Copenhagen, Denmark in 1963 when 16 riders from eight nations took part.  There were no official team medals distributed that year, when Switzerland's Henri Chammartin took the first of two consecutive individual titles riding Wolfdiedtrich. 
The greatest number of teams to participate in European Dressage Championships is 14 - at Hickstead, Great Britain in 2003 and again at Hagen, Germany in 2005.
12 teams participated at the last Championships in Torino, Italy in 2007. 
Germany's Dr Reiner Klimke won three individual titles - at Aachen in 1967 riding Dux and again in 1973 riding Mehmed, and at Copenhagen in 1985 riding Ahlerich.
With Gigolo, Germany's Isabell Werth took the individual title in 1995 and 1997 and won the Grand Prix Special at Donaueschingen, Germany in 1991 and at Lipica, Slovenia in 1993.
Back to the 2009 European Dressage Championship index