American Dressage News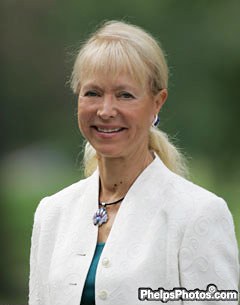 The United States Equestrian Federation (USEF) announced that pending successful contract negotiations, Anne Gribbons will be named as USEF Dressage Chef d'Equipe/Technical Advisor through 2012.
Gribbons will fill the role for dressage that Capt. Mark Phillips and George Morris fill for the Olympic disciplines of eventing and show jumping respectively.
The search and selection process to fill this role for the U.S. dressage program was exhaustive. It began in November 2008 when the high-performance dressage athletes met in Chicago, IL, seeking the successor to Klaus Balkenhol who had served as USEF Dressage Coach and Technical Advisor for the eight years ending in 2008. By recommendation of the High-Performance Dressage Committee, USEF Chief Executive Officer John Long formed a search committee and named Chester Weber to the Chair.

"This search was conducted following the same process that was used to place George Morris in his current role for show jumping. This model ensures that the Eligible Athletes Committee, representing the interests of their peers, makes the choice about who they want to lead their sport into the future. The role of the Search Committee is to steward all of the parties through this process, and I am quite pleased that they have done this so successfully," said Weber.

Eleven applicants met the qualifying criteria. The Search Committee narrowed the field to three candidates. Following interviews held in Denver, CO, the Eligible Athletes Committee, chaired by Sue Blinks, recommended to the USEF High-Performance Dressage Committee that Anne Gribbons be offered the position. At a meeting of that committee on August 10, the recommendation was approved.

"We are grateful to all those who put forth the time and energy to this important process," said Long, who continued, "The USEF looks forward to continue building a strong dressage program for the future, and we believe Anne Gribbons is the ideal person for this job."
Photo courtesy: Mary Phelps/Phelpsphotos.com
Related Links
Morten Thomsen Appointed U.S. Team Trainer
Anne Gribbons Appointed U.S. Dressage Chef d'Equipe