2009 Dutch Young Pony Championships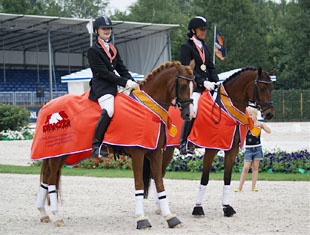 Heidehofs Don Diego, Guardian B and JDJ Keimpe have won the 2009 Dutch Young Pony Championship hosted at the Dutch Equestrian Federation headquarters in Ermelo, The Netherlands on August 7, 2009. The Championships were judged by former O-judge Jan Peeters and Adriaan Hamoen. Guest riders Judith Ribbels, Jose van Haaren, Angela Krooswijk and Jenny Schreven test-rode the highest ranked ponies to help determin the final ranking.
Chayen Kromowidjojo and the Welsh pony gelding JDJ's Keimpe (by Leuns Veld's Lord) won the 6-year old young dressage pony division. Mieke Naberik and the New Forst Pony stallion Casperhof's Boy (by Wheemhoeve's Icarus) were the reserve champions.
In the 5-year old class two German bred ponies took highest honour. Aimee van Neer became champion with the Rhinelander bred Guardian B (by Gershwin B) also placed second in the first round with 72 points and first in the second round with 172 points. Demi Conemans and Poseidon B (by Prometheus B) were the runners up.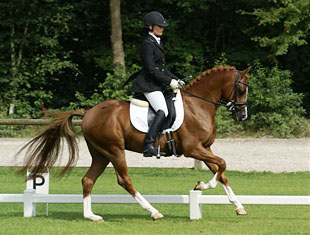 In the 4-year old division Monique van der Meij aboard the Dutch registered Welsh pony Heidehof's Don Diego JK. This young stallion is bby Morgenlands Fabian x Orchard d'Avranches and placed second in the first round and he won the guest judge riding round. The chestnut stallion had already become Groningen regional champion at L1 level. Rachel Bruin became reserve champion at the national pony championships with the Welsh pony gelding Dreamstar (by Bodo).
Photos courtesy: Dutch Welsh Pony Society
Results
 
4-year olds
 
 
 
 
1x
3x
 
 
 
Pony
Sire
Gender
Breed
Rider
1 Round
2 Round
Total
1
 
Heidehof's Don Diego JK
Morgenland's Fabian
Stallion
NWPCS
Monique van der Meij
72,5
175
597,5
2
 
Dreamstar
Bodo
Gelding
NWPCS
Rachel Bruin
71,5
161
554,5
3
 
Golden Power
Woldhoeve's Silco
Gelding
NWPCS
Amber van Zwambagt
71,5
160
551,5
4
 
Mufasa
Keulse Hoeve's Zico
Stallion
NWPCS
Dana van Lierop
74
150
524
5
 
Hesselteich's Lagos
Lucky One
Stallion
Westfalen
Joanneke van Os
72,5
150
522,5
 
 
 
 
 
 
 
 
 
 
 
5-year olds
 
 
 
 
 
 
 
1
 
Guardian B
Gershwin B
Gelding
Rheinlander
Aimee van Neer
72
172
588
2
 
Poseidon B
Prometheus B
Gelding
DRP
Demi Conemans
70
165
565
3
 
Sandokan's Pardo
Orchard Boginov
Gelding
KNHS
Daphne Vergouwen
69,5
156
537,5
4
 
Icarus v/d Bulksehoeve
Isarco
Gelding
NRPS
Roos Rokven
76,5
153
535,5
5
 
La Luna
Orchard Boginov
Mare
NWPCS
Laila Smits
71,5
150
521,5
 
 
 
 
 
 
 
 
 
 
 
6-year olds
 
 
 
 
 
 
 
1
 
JDJ's Keimpe
Leuns Veld's Lord
Gelding
NWPCS
Chayen Kromowidjojo
73,5
170
583,5
2
 
Caspershof's Boy
Wheemhoeve's Icarus
Stallion
NNFPS
Mieke Naberik
72
167
573
3
 
Nikita van den Hout
Aester El Nino
Mare
NRPS
Laila Smits
73
165
568
4
 
Shakira's Son
unknown
Gelding
NWPCS
Shirley Nuyten
77
153
536
5
 
Prestige
Veenstra's Promis
Gelding
NWPCS
Veerle van de Elzen
74
150
524
Related Links
2008 German Young Pony Championships
Te Riele Wins Kur Gold Medal at 2009 European Pony Championships