2009 European Dressage Championships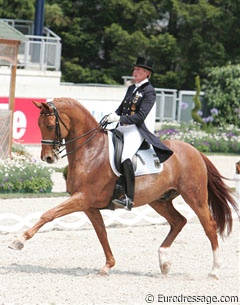 Due to the absence of a suspended Isabell Werth and an injured Herzruf's Erbe, German chef d'equipe Holger Schmezer has been left out of too many good options to assemble the German team for the 2009 European Dressage Championships in Windsor, Great Britain.
It never rains but it pours. Three days ago it was announced that neither Nadine Capellmann, nor Hubertus Schmidt, nor Ellen Schulten-Baumer were no longer available for team selection. Capellmann's Elvis VA is injured and Ellen Schulten-Baumer fell off a horse and injured her neck. Furthermore, Hubertus Schmidt's Donelly has a problem with the lymphatic nodes in his neck.
To make matters even worse, one of the only two definitively selected riders on the team, Heike Kemmer, announced yesterday evening that Bonaparte is injured as well.
The only rider certain of a team place now is Mattias Alexander Rath with Sterntaler Unicef. The final German team selection trial is being held in Verden this weekend and it looks like Monica Theodorescu on Whisper, Susanne Lebek with Potomac and Carola Koppelmann on Insterburg TSF are having the biggest chance to get selected.
Back to the 2009 European Dressage Championship index