2009 European Dressage Championships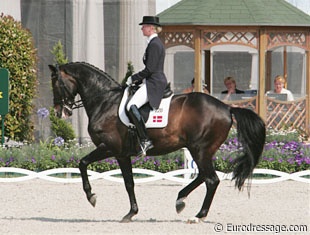 Danish team trainer Rudolf Zeilinger and the Danish Equestrian Federation (DRF) have announced the team that will represent Denmark at the 2009 European Dressage Championships in Windsor, Great Britain, August 24 - 30, 2009.
Based on the performances this season and the last Danish selection trial at the national championships in Broholm, Zeilinger chose the following riders for the team:
Nathalie Zu Saeyn-Wittgenstein - Digby
Anne van Olst - Clearwater
Sune Hansen - Gredstedgards Casmir
Andreas Helgstrand - Carabas
Surprisingly no reserve rider has been named yet.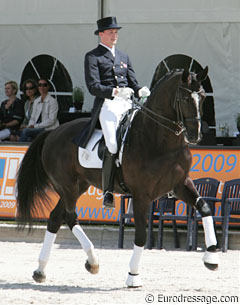 "We have a strong team and we'll go for a medal," said Rudolf Zeilinger. "Holland and Germany have very strong teams, but I think we can also be with team at the top. We did it in Hong Kong and even though Andreas Helgstrand has a new horse and Sune Hansen goes along for the first time, I believe we're still taking a strong team to the European Championships."
For new comer Sune Hansen, the team selection is a dream come true. Hansen replaced Helgstrand as head rider at Blue Hors in the winter and half a year later he has become a member of the Danish team. "I'm very glad and proud," said Hansen. "I'm very much looking forward to participating in the European Championships and I feel ready to ride for Denmark. It's a great honour to be on the team with such accomplished riders."
Disgruntled Dahl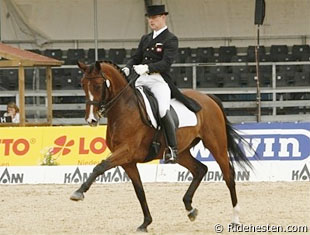 Danish A-team rider Anders Dahl is very disappointed and frustrated with the Danish Equestrian Federation.
Dahl, who lives in Great Britain with his life partner Fiona Bigwood, did not compete at the Danish Championships but instead showed at the 2009 CDI Hickstead, a five star CDI with three O-judges on the judging panel. He scored 69,06% in the World Dressage Masters Grand Prix.
On Thursday 23rd July 2009, only one day before the Danish Championships, Dahl read in DRF president Ulf Helgstrand's daily blog that the nationals were an official and mandatory selection trial for the Danish team.
"I asked in writing in September 2008 for the team selection criteria for the 2009 European Championships as well as the 2010 World Equestrian Games. I have repeatedly done so but it has been impossible to get a reply from DRF sport manager Jens-Erik Majlund."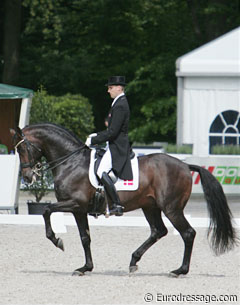 Last year Anders Dahl was on the short list for the Danish Olympic team but didn't make the cut, even though he qualified as an individual. Dahl now has a new Grand Prix horse, Bukowski, with which he scored 69.404% in the Grand Prix at the CDI Lingen and 66,596% at the CDI Saumur(score average 68,00% with one drop score)this 2009 outdoor show season.
With these good scores he was supposed to have qualified for the Danish team for the CDIO Aachen. None of the other Danish team candidates had scored a Grand Prix average above 67% this outdoor season, except for anchor Nathalie Zu Saeyn-Wittgenstein who has been the leading Danish rider this season with consistent high percentage marks at each show (70.809% at CDI Wiesbaden, 69.660 % at CDI Munich, and 72.425% at the indoor show in Hertogenbosch,)
Andreas Helgstrand, who has been striving for the fourth team spot alongside Dahl had scored only 67.532% in the Grand Prix at CDI Wiesbaden and 65.872% at the CDIO Rotterdam (score average of 66,702% - only two shows). The FEI closing date for entry at the CDIO Aachen was one day before the start of the CDIO Rotterdam and the mandatory requirement for an Aachen entry was two international scores. Helgstrand had not yet achieved this before the official entry closing date. As Rotterdam was after the deadline for qualification, the Danish Federation had to get wild card for Helgstrand.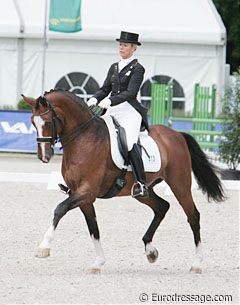 Other team candidate Anne Van Olst scored 66.638% at the CDI Hagen and 66.851% in Rotterdam (score average: 66,7445% with one drop score) during the outdoor season, but she has a 70% Grand Prix score to her advantage obtained at the indoor World Cup qualifier in Den Bosch in March 2009.
"Aachen was mentioned as a selection trial for the Danish team so I really wanted to go there," Dahl told Eurodressage. "I was told you had to have two good international scores to compete in Aachen, which I did with Lingen and Saumur." After Lingen Dahl asked his Federation to compete in Aachen, but he was told the decision would be taken after Rotterdam.
Missing Aachen, Dahl continued his string of success at the CDI Vierzon where he scored 67,702% in the Grand Prix and won the Special with 69,208%. Dahl chose to ride at Hickstead in front of a multiple O-judge panel instead of the Danish Championships, a wrong choice which cost him team selection.
"None of our riders are in doubt that you have to ride at the Danish Championships to be considered for the team. They have all received a mail and have been told many times," Majlund told the Danish newspaper Politiken. Dahl stated he never heard of Majlund in ten months.
Dahl explained to Eurodressage that there was a letter about the trials, but the DRF replied that the letter from chef d'equipe Kimi Nielsen was wrong and team trainer Zeilinger even told a different story. Dahl asked for the official selection policy from Jens-Erik Majlund, but never received it.
In order to get an official reaction from the DRF, Dahl went to his lawyer. "I approached a lawyer just as an advisor and not with the intention of suing," Dahl explained Eurodressage. "I wanted to get an answer from the DRF and apparently I need a lawyer for them to respond. I never went public with my frustrations, but it was the DRF who brought this whole story to the press."
"We have now received a four page long letter from Anders' lawyer, which I have replied to and the reply he got on Monday (July 27)," Jens-Erik Majlund told the Danish news paper Politiken. "We have a luxury problem now because we have many riders that can belong to the team. It's always hard for them who don't make the cut. I notice frustration in Anders' reaction and that is only natural, because if you are an athlete, you want to make it on the team," said Majlund.
Dahl clearly mentioned that it is not his plan to sue. "We all work for many years for this, but it seems that a few people can do exactly what they want. Team selection should be very simple: the riders with the best international results should be on the team. If you look at the history of Danish team selection, you don't know what they are choosing from! I'm just asking for a clear selection policy so we can all live by the rules!"
Photos copyrighted: Astrid Appels - Barbara Schnell - Ridehesten.com
Related Links
Back to the 2009 European Dressage Championship index
Scores 2009 CDI Lingen - CDI Saumur - CDI Wiesbaden - CDI Rotterdam