2009 North American Junior and Young Riders Championships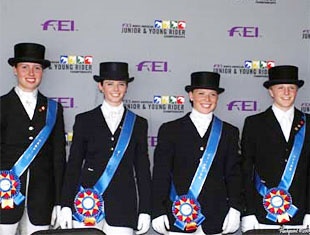 The rain that plagued the Kentucky Horse Park yesterday was nowhere to be found as the Juniors took to the dressage arena for their first rides of the competition, the team championships competition at the 2009 North American Junior Riders Championships.
Today's rides would decide the Team medals, and all the riders arrived in top form.
Taking home the Team Gold medal was the Ontario, Canada, team. The team, made up of Maura O'Sullivan and Pik Czar, Zachary Ball and Karajan, Megan Lane and Caravella, and Alexandra Dvorak and Fling, finished with a total of 196.433. Team Ontario had three riders finish in the top 10, with two of them in the top three individually.
"We really worked as a team and I think that helped to bring it all together," said Lane.
The Canadian team took several mintutes to thank all their sponsors, their families, and everyone associated with running the NAJYRC
"It's just been a great experience to show here," said O'Sullivan. "Everybody's been extremely helpful and nice."
"The whole facility is amazing," Dvorak added.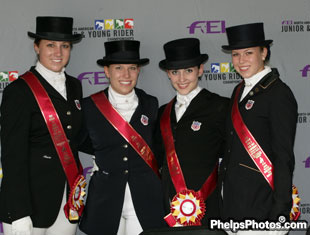 The Team Silver medal went to Region 3 from the USA. Ellen Wall and Tvauri, Katrin Dagge and Dream of Love, Jessica Deimler and Ragtime V, and Lauren Knopp and Rho Dance combined scores gave them a total of 190.594. The Silver-medal team also had three riders finish in the top 10.
"It's truly the Junior Olympics," Deimler said. "We all feel so blessed to be here and to have this opportunity at such a young age. It's such a wonderful program to be a part of."
"It's great for us to be here as a team," Wall said. "We were thinking that we were going to be the team and it's great that we're here together. We get along so well. We knew each other before the team and we work so well together."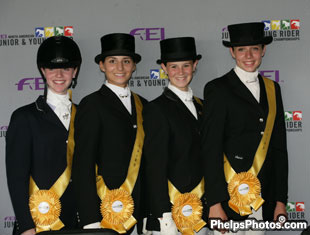 Finally, the Bronze-medal team was the USA Region 1: Melanie Montagano and Ga Deva, Alison Coyle and Bariton, Kaitlin Blythe and Daverden, and Nicole DelGiorno and Lamborghini Dane. Their total score was 189.026.
"There's really nothing like this competition," DelGiorno said. "Outside of dressage there are so many disciplines here. It's the estuary for the future for all equestrian sports. It's amazing to be around that talent and see so many beautiful horses. It's great to be able to sit down and watch one great horse and rider after another.
Standing first individually is Young Riders' rookie Megan Lane from Ontario, Canada, and her lovely mare Caravella. The pair turned in a score of 67.189%. Lane and Caravella turned in a strong test with flashy movements to impress the judges enough to catapult them into the lead.
"It feels great!" Lane said after her test. "The test was great. She was really, really good. She was a little bit nervous in the warm up, but she really pulled herself together. We've only been partners for about four months, so I think this far we've done pretty well together."
Sitting in second place individually is the stunning Danish Warmblood gelding Lamborghini Dane and Nicole DelGiorno. The pair, from Region 1, is sitting right behind Lane and Caravella with a score of 66.486%.
"I was really happy with my ride," she said. "Every once in a while he gets a little lazy, but it was nice to be able to take my leg off and have him be nice and springy. We didn't know if this season was going to be possible because I didn't have a horse as of two years ago, and he had an almost career-ending injury. Through careful rehabilitation and training he's been able to come back and do quite well."
DelGiorno added that the exciting atmosphere in the main arena at the Kentucky Horse Park suited her horse perfectly.
"He actually does great at shows. He like all the attention, the flags, and the more people clapping, the better!"
Finally, rounding out the top three is Canada's Maura O'Sullivan and Pik Czar. The judges awarded the pair a score of 65.586% for their steady and flashy test. This is O'Sullivan's first time at Young Riders, and she is thrilled with her and her horse's performance this week.
"It was fantastic!" O'Sullivan said. "He was such a good boy and I couldn't be more proud of him. I really didn't know what to expect going into it. This is really my first big competition. I just did my first CDI about three weeks ago. I'm really glad we've turned out to be a competitive pair."
Pik Czar, a 13-year-old Hanoverian, has been with O'Sullivan for three years.
"He's a real character," she said. "He's very friendly, he loves people, he loves food…he's a big ham!"
Photos copyrighted: Flashpoint Photography - Mary Phelps/Phelpsphotos.com
Related Links
Dressagedaily Coverage of the 2009 NAYRC
California Wins Team Gold at 2009 North American Young Riders Championship
Scores 2009 North American Junior/Young Rider Championships