2009 Bundeschampionate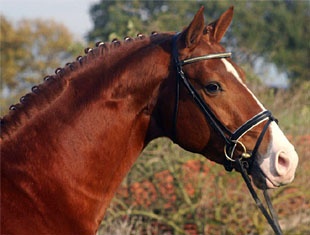 High quality rides in the 5-year old division took place at the Bundeschampionate qualifier in Gross Viegeln in the Mecklenburg-Vorpommern province on 16-18 July 2009. Three horses scored 8.0 or higher and met the criterium to compete at the Bundeschampionate in Warendorf.
Mike Bünger put the swings in things with his Hanoverian bred Dycos d'Or (by Don Marcello x Weltmeyer). The horse scored a strong 8.3 mark to win the class. Arndt Hönke and Bocelli M followed in a small distance with 8.10, while Steffen Frahm and Benidetto (by Belissimo M) slotted in third with 8.0.
In the 6-year old division, Claudia Delfs and Well Ville R, a Hanoverian by Wilawander xx, got the blue ribbon for their 7.70 earning ride. Ronald Luders and Tacita (by Dionysos x Rex Graziano) finished second with 7.5.
Results
5-year old Dressage Horses
1 Dycos D'Or - Bünger, Mike - 8.30
2 Bocelli M - Hönke, Arndt - 8.10
3 Benidetto - Frahm, Steffen - 8.00
4 First Class - Otten-Willers, Jessica - 7.70
5 Louis de Funes - Schrader, Carmen - 7.60
6 Lewitz - Volkmann, Roland - 7.50
7 Carry Ann - Cefalo Räder, Anne - 7.00
7 Amani - Scheffel, Katrin - 7.00
9 Santinus - Spierling, Kati - 6.90
First Dance - Frahm, Steffen - RET/DNS
Count Up - Thieme, Michael - RET/DNS
6-year old Dressage Horses
1 Well Ville R - Delfs, Claudia - 7.70
2 Tacita - Lüders, Ronald - 7.50
3 Donna Medici - Hannöver-Sternberg, Martina - 7.40
4 Doktor Vogel - Oldershausen, Christine von - 7.30
5 Royal Rubinstar - Ollmann, Nadine - 7.10
5 Rubin Noir - Sandbrink, Stefan - 7.10
7 Day Dream - Ollmann, Nadine - 7.00
8 Diagone - Thieme, Michael - 6.80
9 Dance for me - Kraus, Wenke - 6.50
10 Sid - Bachmann, Cora - 6.40