2009 Bundeschampionate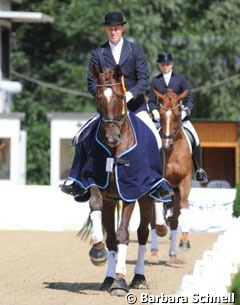 Agnone and Fürst Kaspar became the winners of the Rhinelander Bundeschampionate Qualifier in Wickrath, where also FEI pony classes, a Medien Cup qualifier and a big tour took place.
Oliver Oelrich steered his stallion Agnone (by Abanos x Dream of Heidelberg I) to a winning score of 8.2. Geertje Hesse, a student of Ton de Ridder, finished second aboard Percy, a Bavarian bred offspring of Pasolongo. They scored 8.0. Anna Katharina Luttgen and the Hanoverian branded Casino Royale (by Conteur I) slotted in third with 7.6.
In the 6-year old division the Finnish Emma Kanerva captured the trophy by scoring 8.0 with the Westfalian Furst Kaspar (by Furst Piccolo). Oelrich ranked second with the Westfalian licensed stallion Rock Forever (by Rockwell) on 7.8.
A full photo report from Wickrath by Barbara Schnell can be seen below
Results
5-year old Dressage Horses
1 Agnone - Oelrich, Oliver - 8.20
2 Percy - Hesse, Geertje - 8.00
3 Casino Royale - Lüttgen, Anna-Katharina - 7.60
4 Sini Santos - Kanerva, Emma - 7.50
4 For Compliment - Kerner, Stefanie - 7.50
6 Fairway - Bouten, Matthias - 7.30
7 Forbes - Camp, Lydia - 7.20
7 White Valentino - Kluth, Detlef - 7.20
9 Finnya - Camp, Katja - 7.00
9 Sole Mio - Lütkemeier, Fabienne - 7.00
9 Titiano - Svensson, Johan - 7.00
12 Bailey - Bouten, Matthias - 6.90
12 Lord of Dance - Frieß, Stefanie - 6.90
12 Donnington Park - Kleimeyer, Christoph - 6.90
12 Ricciano - Negri, Anna von - 6.90
16 Royal Milvana - Kerner, Stefanie - 6.80
17 Waringham L - Lambertz, Linda - 6.50
17 Lucretino - Walter, Rebekka - 6.50
19 Belvedere - Thomas, Felix - 6.40
6-year old Dressage Horses
1 Fürst Kaspar - Kanerva, Emma - 8.00
2 Rock Forever NRW - Oelrich, Oliver - 7.80
3 Laurenziano - Haller, Claudia - 7.60
4 Saranya - Boening, Dr.Ilka - 7.40
5 Right in Time - Schmitz-Heinen, Wolfgang - 7.30
6 Roses Revolution - Kleimeyer, Christoph - 6.80
7 Otto's Welthit - Augustin, Johannes - 6.60
Agneta - Jorissen, Philippe - DNS
Sympathico - Vente, Christoph - DNS
Back to the 2009 Bundeschampionate Index