2009 North American Junior and Young Riders Championships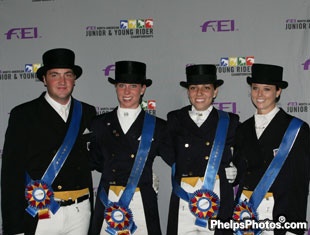 The 2009 Adequan FEI North American Junior & Young Riders Championships (NAJYRC) kicked off on Wednesday 22 July at the Kentucky Horse Park.
Despite the fact that rain showers, and eventually a downpour, plagued the first day of competition, some stunning rides in the NAJYRC Dressage Championships Team Test and the first medal ceremony of the championships brightened the day for riders and spectators alike.
USA REGIONS 7 TAKES HOME THE FIRST GOLD
The team, consisting of Brian Hafner and Lombardo LHF, Amanda Harlan and Liberté, Christine Stephenson and Markant and Brianna Dutton and Tibet, finished with a team total of 198.631. All four riders put in solid tests. More importantly, they all appreciate their team members and how well they have gotten along on the journey to the NAJYRC.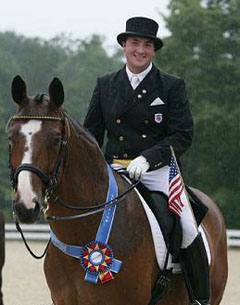 "I got really lucky today," Hafner said. "My horse was really solid. We had a few minor faults. It is a huge deal for me to be part of this group and do so well as a team."
Harlan agreed with Hafner, and got the added privilege of experiencing the rain firsthand.
"I was very happy with my ride today. I rode in the pouring rain for the first time!" she said. "I'm so happy to be here. It's been an amazing journey."
Dutton and Stephenson finished with solid scores, but both were thrilled with their team's efforts and with receiving the Gold medal.
"There were a few more mistakes than usual," Dutton said. "But, it was nice to ride and get out there. My team is really awesome."
"I didn't have the greatest ride today," Stephenson admitted, but added, "I have the best teammates anyone could ever have. It was just awesome being there and being able to compete."
USA REGION 2 GETS THE SILVER, USA REGION 3 BRONZE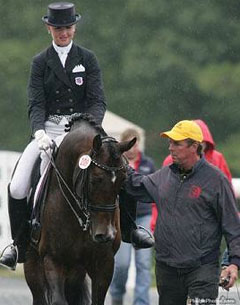 The Silver-medal team from Region 2 was made up of Ashlee Todosijevic and Sjoerd, Brittany McCarthy and Gabelle, Kristen N. Becker and Ramses and Kassandra Barteau and GP Raymeister. Region 2 had two riders finish in the top three individually, and had a combined score of 197.315.
The Bronze medal went to Region 3 with a combined score of 194.579. The Region 3 team included Mary-Cameron Rollins on Rose Nior 2, Caroline Roffman on Accent Aigu FRH, Amanda Sterns on Revanche and McKenzie Jenkins on Tsarina Bint RII.
INDIVIDUAL PLACINGS
Topping the leader board individually after the first round of dressage was Brian Hafner aboard the Hanoverian Lombardo LHF. Hafner, hailing from Region 7, received an average of 68.842% from the five judges. Lombardo has been with Hafner since he was a four-year-old.
"My horse was really solid today," he said. "We had a few minor faults. But I am very fortunate to have a great horse. He's so amazing. He has a great personality, and I am very blessed to have him."
Hafner goes go school in San Diego and trains with Laurie Falvo Doyle.
Kristen N. Becker and Ramses, a flashy KWPN from Region 2, turned in a 67.789% to put themselves in second place. Ramses impressed the judges with his flashy gaits and smooth, solid movements to earn a Team Silver medal, as well as put himself and Becker in a solid position for the rest of the competition.
Rounding out the top three is Kassandra Barteau and her GP Raymeister, also from Region 2, with their score of 67.579%. This isn't the first trip to this competition for Barteau, but it is the first trip to the championships for her partner. Thus far, Barteau is pleased with Raymeister's performance.
"He was such a good boy!" she said. "I just took it nice and slow, and I didn't push him. I thought he was really steady. He can get a little flighty, and he didn't see the [judges'] tents yesterday. But, I was really proud of how he handled that."
Raymeister, a nine-year-old Holsteiner stallion by Rantares, has been with Barteau since he was just starting out under saddle.
"We've been together for four years now," she said proudly. "I've had him since he was doing training and first, and he's just working his way up to the FEI levels, figuring it all out."
Photos copyrighted: Mary Phelps/Phelpsphotos.com
Related Links
Dressagedaily Coverage of the 2009 NAYRC
Scores 2009 North American Junior/Young Riders Championships