2009 World Championships for Young Dressage Horses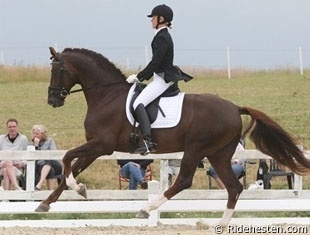 The Danish Warmblood society and Danish Equestrian Federation have announced the team of horses that will represent Denmark at the 2009 World Championships for Young Dressage Horses in Verden, Germany, August 6 - 9, 2009. The selection of the Danish 5 and 6-year old is based on four selection trials all over the country and a big finals held in Middelfart, Denmark, on July 3-5, 2009.
The Denmark is sending an extremely strong group of young horses this year. Much is expected of Donna Unique and Honnerups Driver, but even more from Skovens Rafael. Skovens Rafael (by Blue Hors Romanov x Blue Hors Don Schufro) achieved nothing less than 97% at the first selection trial. He has won everything since he was under the saddle for the first time. Rafael was purchased at the elite foal auction for 10,000 euro by an Irish investor who then had him raised at Blue Hors for the next 2½ years. At the stallion licensing he became the price highlight and sold for 160,000 euro to Lotte & Per Skjærbæk and Lotte Lindgren as a Grand Prix dressage prospect for Lotte Skjærbæk. He became licensing champion and has won the young horse championship and so much more.
The qualified horses are:
5-year olds
Skovens Rafael - Lotte Skjærbæk
Uno Donna Unique - Andreas Helgstrand
Karina Lihmskov - Maria Anita Andersen
Hønnerups Driver - Andreas Helgstrand
Reserves:

1. Rassings Lonoir - Anna Blomgren
2. Sweet Simon - John Hvalsøe Saul
6-year olds
Heslegårds Rolex - Lone Madsen
Uno Don Diego - Thomas Lassen
Atterupgaards Cassidy - Sabine N. Petersen
Spirit Lotus - Lars Bækgaard
Reserves:

1. Algier - John Hvalsøe Saul
2. Dybdalgaards Margerit - Michael Søgaard
Back to the 2009 WCYH index