2009 European Junior and Young Riders Championships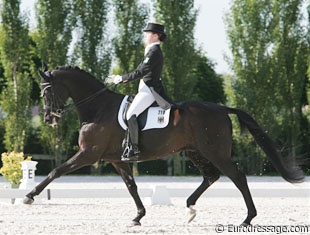 The German Junior and Young Riders Team that will compete at the 2009 European Junior/Young Riders Championships in Ermelo, The Netherlands, August 5-9, 2009, has been announced. Following two national selection trials in Germany, the Preis der Besten in May and the CDN Neubeeren in June, the German chef d'equipe Hans-Heinrich Meyer zu Strohen was able to select the team:
The Junior Riders Teamincludes:
Nicola Krause - Mitchell
Louisa Lüttgen - Habitus and Diamantenbörse
Sanneke Rothenberger - Paso Doble and Deveraux OLD
Charlott-Maria Schürmann - World of Dreams

Reserve: Marie Sofie Ehlen - Perignon T
The German Young Riders Team includes:
Friederike Hahn - Richard Löwenherz
Fabienne Lütkemeier - D`Agostino
Thea Felicitas Müller - Highway
Kirsten Sieber - Charly.

Reserves: Tom Berg - Diva Royal and Ann-Kristin Dornbracht - Gryffindor
Hans-Heinrich Meyer zu Strohen is very happy with the level of quality of his chosen teams. He considers Louisa Luttgen and Sanneke Rothenberger the anchors of the junior team. "Both are very close to one another on a performance level with both their horses," he said. "Our junior team is a strong team performing at the similar level to last year. I have a confirmed feeling that about the composition of the team and their resistance to stress, which is also important."
The anchor of the young riders team is Thea Felicitas Muller. "This is Thea's first year as young rider and I have to say she's an absolute highlight," Meyer zu Strohen admitted. "It is super cool that she has been able to be at the top straight after making the switch to young riders. We have two exceptional combinations in the young riders team and the other two are very close to that. This makes it so difficult to pick a team."
Back to the 2009 European JR/YR Championship Index