2009 CDIO Aachen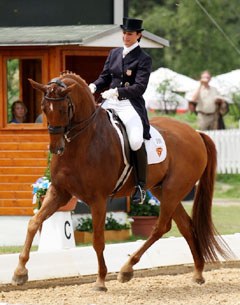 "Going to Aachen feels like an annual pilgrimage.  It is after all the Mecca of equestrian sports in the world", says Catherine Haddad, 44, an American dressage rider based in Germany.
"I am very excited to represent the United States in Aachen."  Haddad was chosen to represent the first American team  to compete at CDIO Aachen since the WEG 2006 when the United States won a bronze medal in the team competition.  But an injury to Jane Hannigans's horse, Maksymilian, has left the US without a team.
Now Catherine Haddad and World Cup winner Steffen Peters will start as individual riders in the O-Tour. "Of course it would have been great to start as a team  in the Nations Cup.  I'm disappointed, but Steffen and I will give our best anyway", said Haddad. She will ride her upcoming star Cadillac who recently won his sixth Grand Prix competition this year.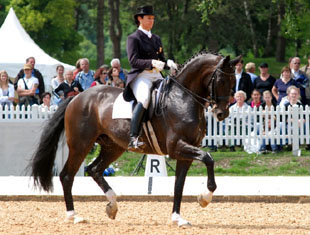 Just returned from a 12 day trip to the south of France where the pair had three high placings and one win at the CDI5* Cannes and CDI3* Vidauban, Haddad says that Cadillac "is in top form.  We are trying to bring our 'A Game' to Aachen.' The 12 year old Danish gelding by Solos Carex was purchased by Catherine Haddad when he was six years old.  Six wins and three top three placings have propelled the pair into the limelight since the beginning of this year.
Haddad started  in Aachen in 2007 and was reserve rider for the WEG in 2006 on her big chestnut gelding,  Maximus JSS. The Danish gelding by May Sherif  placed 7th at the World Cup Finals in Las Vegas in 2007 and will also start at Aachen in the CDI4*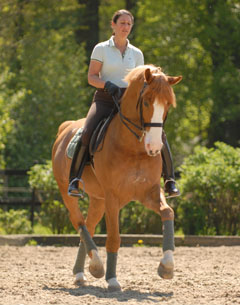 Training in Germany for 15 years now, Haddad is sponsored by Schockemöhle Sports. "We are proud and happy, that Catherine will start in Aachen. She will give an autograph hour at our shop in the trade fair at the competition grounds on Sunday at 12h30", said Franz Schockemöhle, manager of Schockemöhle Sports and Reitsport Schockemöhle.
Besides her top horses Cadillac and Maximuss JSS, both Danish warmbloods, Catherine sets her future hopes on some German prospects.  Breeding with two Oldenburg and two Hanoverian mares, her biggest success has been the approvals of her homebred stallions, Razzmatazz by Raphael and De Kuyper by De Niro. Two of her 2009 foals are by double world dressage horse champion Florencio, who will be competing in the small tour in Aachen.
Photos copyrighted: www.ts-foto.de and Julia Wentscher
Back to the 2009 CDIO Aachen index