2009 CDIO Rotterdam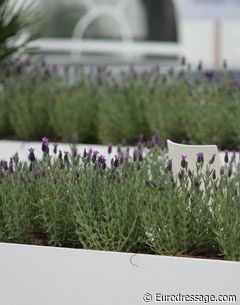 For some reason I have always been avoiding going to Rotterdam. Rush hour traffic in Holland is hell and the Rotterdam show is located in the Kralingse Bos in the suburbs of Rotterdam and it's been notorious for difficult parking. This year, I thought I would give it a go because I wanted to see Edward Gal's Totilas do his first international Grand Prix show.
I left home at 6AM to avoid rush hour traffic round Eindhoven and Den Bosch and thank God for GPS beause I would have been stuck on the A15 as well. The CDIO Grand Prix was to start at 8.30 AM and at 8 AM I arrived at the Kralingse Bos. I had half an hour to get parked and accredited. Yeah right! It took half an hour to get parked somewhere in Tilburg (as a figure of speech), to wait 20 minutes for the shuttle, then to walk 10 minutes to the show ground. I was completely irritated by the poor management of the Rotterdam show. It was a disgrace. Fortunately the shuttle bus driver was a super friendly man because I felt like gnawing off someone's ears out of frustration.
Thank God the weather was nice so I could start taking good pictures. (When I got home I noticed I had my settings wrong and there were a whole bunch of pictures out of focus. Rottedam is jinxed!!).
Totilas' Arrival on the International Scene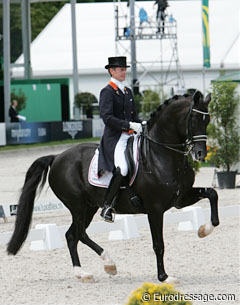 The Grand Prix was quite the class, with a few surprise rankings and some nice dressage. Of course Totilas won. This great horse showed great things and the Dutch media spindoctors are now pulling out all the stops to turn this horse into the new Messiah. "A horse from another world" they write, but lo and behold.. Totilas is great, but not extraterrestrial ;)
He makes the same mistakes as any young Grand Prix horse would make but he does have extraordinary athleticism and movements. That's why he scores so highly... and he's the New Kid on the Block.. which is always refreshing and fun!
You can't remark anything on Totilas basic gaits. His walk is ground covering and relaxed, he dazzles in trot with his shoulder freedom, knee action and engaged hind legs and his canter is active, off the ground and uphill. In piaffe he sits really well and keeps a great rhythm, in passage he can maintain good suspension and the transitions are flawless.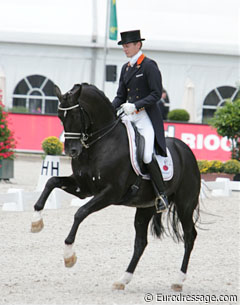 He showed beautiful trot half passes, but the reinback started off with a halt that was not square and the steps backwards were not diagonal. The canter work is where the problems are. In the zig zag, Gal made a mistake and the exit of both pirouettes could have been better.
But it were the flying changes which weren't pretty. In the two tempi's the hind quarters swung from left to right. In the one tempi's it was less but some of the changes were short behind. The flying change at X in between the pirouettes was also mediocre with the hindquarters swinging to the right.
Gal scored 79.149% and won the class. "Totilas had a few days rest after the Dutch Championships and all of a sudden it was Sunday and I realised that I had to be ready for Thursday," Gal explained. "I know it can still be better, though it sounds crazy when you have a score of almost 80%. On the other hand I was scoring over 80% for a long time until the end of the ride and then it's a pity you can't maintain that score."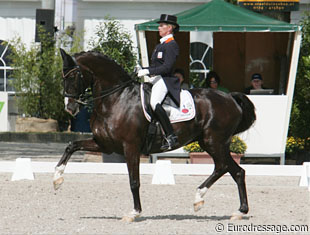 Anky van Grunsven and Salinero placed second. In Cannes the pair was on form but in the Grand Prix at the CDIO Rotterdam, the duo did not seem to be on the same wavelength. Too many little mistakes meddled with their usual perfect test riding. Two non-halts, legs trailing in the rein back and an uneven passage at the beginning of the test with more action from the left hind leg than the right hind. Also the trot extensions were more up than forward. The canter work was solid. Good flying changes, ok pirouettes. Not their best test, but still a score to put them second: 73.447%
"I never watch the score board but in this arena you can't look away from it," Van Grunsven admitted. "I wasn't happy with what I saw and it demotivated me. There were too many small mistakes. Last week in Cannes Salinero went super but here we just didn't have it together. That was weird because during the warm up Salinero felt perfect."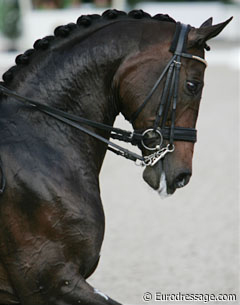 Imke Schellekens-Bartels finished third with Sunrise on a score of 73.106%. Though the mare performed a clean ride, she seemed less relaxed than she was, for instance, in Hagen. The extended trot lacked overtrack and the rein back was tense. The trot half passes were great, though, as well as the piaffe and passage. There was also some tension in the canter tour, especially in the two tempi's. The one tempi's lacked ground cover and the pirouette right could have been more correct.
"To my feeling my horse is totally on form," Schellekens explained, "but I made a few rider mistakes. I don't have to improve my horse, I just have to ride better myself."
In my humble opinion, Emma Hindle should have placed second in the Grand Prix. She had such a nice ride on Lancet. The trot work looked calm and collected: super steep trot half passes, good trot extensions, though the first one could have been a bit more forward. A beautiful first piaffe passage followed and the second pi-pa was rhythmical and regular. The only mistake was the wrong strike off in canter from passage. Hindle scored 72.468% to finish fourth.
All photos copyrighted Astrid Appels/Eurodressage
No Reproduction Allowed without Permission/Payment
Show Photography
Eurodressage photographer Astrid Appels was on the scene taking pictures of all CDIO Grand Prix riders and ALL CDI Prix St Georges riders

We shot the following riders: Augustin, Bigwood, Bolz, Boschman, Burfeind, Christensson, Dyrby, Eriksson, Gal, Gregory, Gundersen, Hansen, Helgstrand, Hester, Hindle, Hoes, Hoffman, Lenaerts, Marijnissen, Minderhoud, Niemann, Schellekens, Spahn, Van Baalen, Van der Meer, Van Grunsven, Van Lieren, Van Olst, Verliefden, Visser, Von Essen, Zweistra

If you are interested in seeing your photos and

ordering prints

, 

send us an email 

mentioning the rider's or horse's name.
Related Links
Scores 2009 CDIO Rotterdam
Teams Announced for 2009 CDIO Rotterdam