2009 Bundeschampionate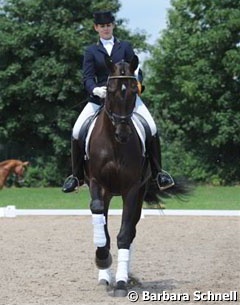 Sanubi and Dancing Elvis became the winners of the Bundeschampionate qualification classes at the Rhineland regional championships in Langenfeld, Germany, on June 19, 2009.
Christine Nolden rose to the top in the 5-year old Dressage Horse division. Aboard Peter Jan Schluschen's Hanoverian mare Sanubi (by Sandro Hit x Rubinstein), Nolden scored an overall mark of 8.3 with a 9 for walk. Jessica Suss finished second aboard Nadine Capellmann's Oldenburg mare Comtessa (by Royal Hit x Dream of Heidelberg). She got an 8.0 and tied with Jana Freund on Donna Belissimo (by Donquestador x Weltmeyer) and with Katja Camp on Finnya (by Furst Piccolo x Dunhill H).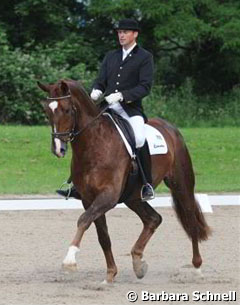 Heiner Schiergen topped the leader board with the chestnut gelding Dancing Elvis. This Del Piero x Espri gelding, which is owned by Hof Kasselmann, scored a fantastic overall score of 9.0 with a 9 for trot, 9.5 for canter and overall impression. Schiergen's former ride Femke (by Farewell II x Lys de Darmen), which is owned by Schiergen's student and current rider Carlotta Soffing, landed a second place with a 7.7 score. The mare was acquired by the Soffing family at the 2007 CHIO sales.
Photos copyrighted
Barbara Schnell - bschnell.de
Results
5-year old Dressage Horses
1. Sanubi - Christine Nolden - 8.30
2. Comtessa - Jessica Suss - 8.00
3. Donna Belissima - Jana Freund - 8.00
4. Finnya - Katja Camp - 8.00
5. Belvedere - Felix Thomas - 7.70
6. Sheraton - Heiner Schiergen - 7.60
7. Beaufort - Gabriele Rund-Kollner - 7.60
8. Flatley - Matthias Bouten - 7.50
9. Donnington Park - Christoph Kleimeyer - 7.40
10. Decor Delatio - Miranda Rongen - 7.30
11. Spielberg - Marcel Sterrenburg - 7.20
12. Forbes - Lydia Camp - 7.20
13. Federico Fellini - Dennis Jürgen Viebahn - 7.10
14. Flavian - Margot Noffke - 6.90
15. Hadrian - Andrea Wenzel - 6.90
16. Walparaiso - Annette Alda - 6.10
6-year old Dressage Horses
1. Dancing Elvis - Heiner Schiergen - 9.00
2. Femke - Carlotta Soffing - 7.70
3. Laurenziano - Claudia Haller - 7.50
4. Roses Revolution - Christoph Kleimeyer - 7.00